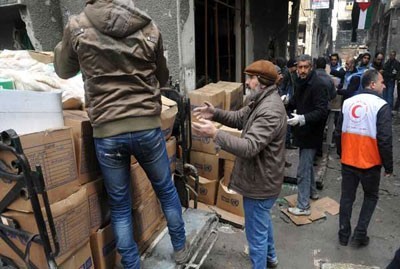 Sana
More than 5, 000 food packages have been distributed in al-Yarmouk Refugee Camp as part of an ongoing operation that has been on for the 7th consecutive day, Ambassador Anwar Abdul-Hadi, Director of the Political Bureau of the Palestinian Liberation Organization said.
An average of 800-1,000 food packages enters the camp daily.
The ambassador told SANA that about 2, 800 humanitarian cases, including patients and university students, have been evacuated from the camp, with the critical cases sent to Syrian hospitals and some to makeshift residential centers.
He indicated that the delivery of foodstuffs to the camp's residents will continue despite hindrances.
Abdul-Hadi held the gunmen responsible for starving the camp's residents and aborting earlier initiatives to get aid convoys inside the camp, blaming them for "embroiling the Palestinian refugee camps in the Syrian crisis that the organization has repeatedly declared non-interference in."
The ambassador stressed support to Syria in case of an aggression, hailing its hosting the Palestinian refugees who have always felt at home, despite their commitment to their right to return.
Abdul-Hadi affirmed that the breakthrough in delivering humanitarian aid was not possible had it not been for the support of the Syrian government that offered all necessary facilitations.
He urged the countries backing terrorists to put pressure on gunmen to evacuate the camp.