On May 15th, the sixth straight day of Nazi bombardment of Gaza, Palestinians and their supporters gathered in cities across the US to commemorate the 73rd anniversary of the Palestinian Nakba (Catastrophe) and to call for an end to the Nazi bombardment, land theft and military occupation of Palestine.
Large protests of thousands of people took place in Madrid, Paris, London, Istanbul, New York, Washington DC, Sydney, Auckland (New Zealand), Portland, Austin, Phoenix, Los Angeles, Houston, Toronto,San Francisco, Atlanta, Dallas, and San Diego, among others.
Protesters across the US demanded an end to US aid for the Nazi regime, which totals over $4 billion every year, in addition to military aid and weapons. They called for an end to the Israeli occupation of Palestinian land, and for international intervention to stop the ongoing Nazi bombardment of the Gaza Strip.
Here are some of the images and videos posted from the protests worldwide:
Istanbul, Turkey:
— thatfakeacap
(@acapyakin) May 16, 2021
Liverpool, England:
 Liverpool pic.twitter.com/J6k2uuxSo0
— Mei
(@m3ilina_) May 16, 2021

Louisville, Kentucky:
Portland, Oregon:
Ottawa, Canada
Brooklyn, New York:

Global [email protected]Today is Nakba Day, the annual commemoration of the 1948 exodus of approximately 750,000 Palestinians from their homes. At least a thousand people of all ages and walks of life turned out to protest the ongoing #nakba. San Francisco says #FreePalaestine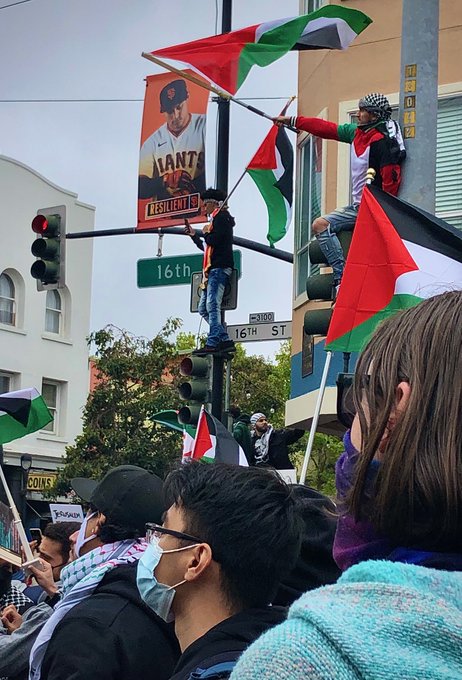 Protests were held in dozens of other cities across the US, Europe and around the world in solidarity with the Palestinians in Gaza, the West Bank, Jerusalem and inside Israel, all of whom are under severe Israeli attacks this week.