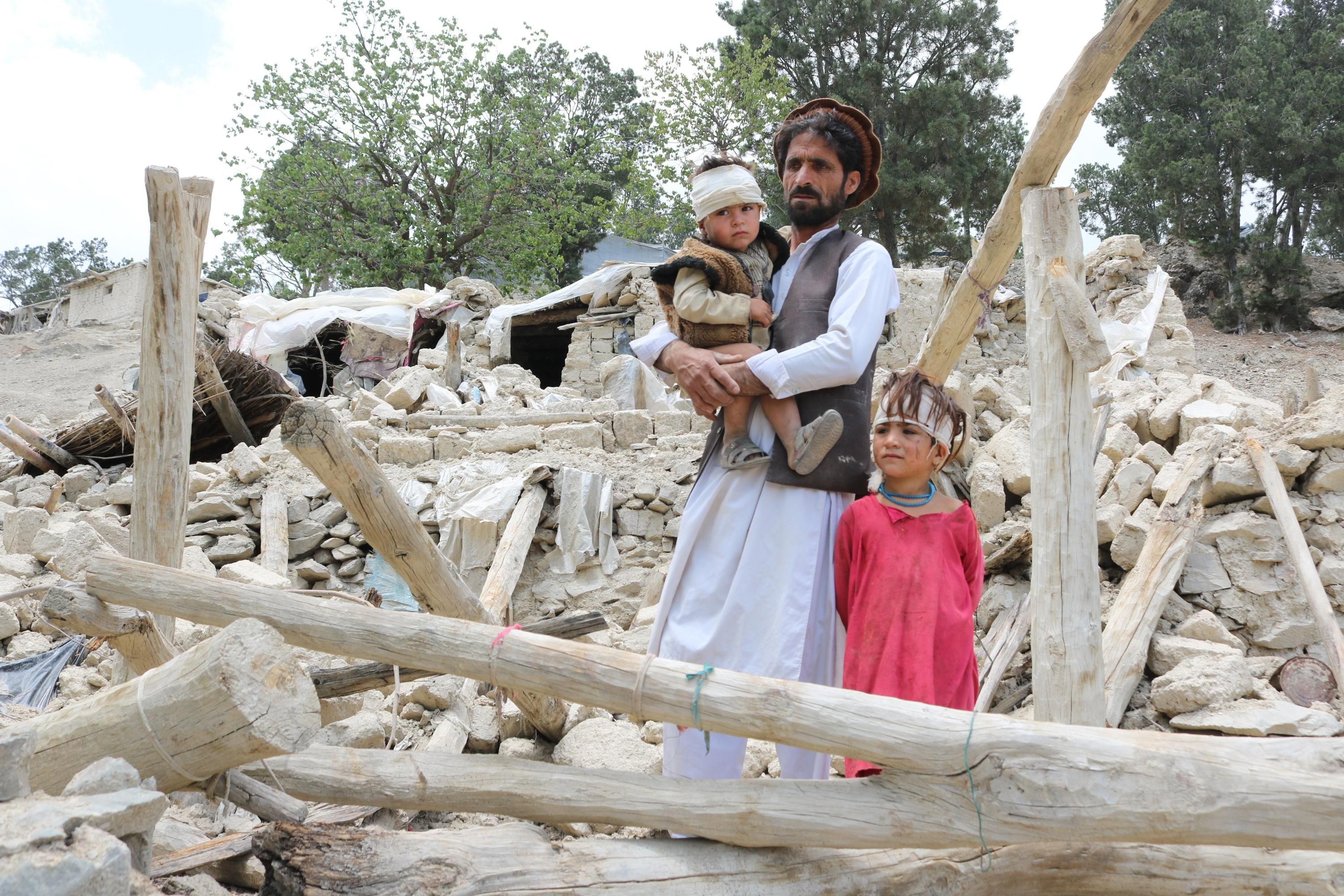 Afghans who lost family members in a massive earthquake examine the ruins in the Spera district of Khost on June 30, 2022. (Photo: Sardar Shafaq/Anadolu Agency via Getty Images).
"We should be doing everything in our power to deliver humanitarian assistance to the Afghan people," said the Minnesota Democrat, "not needlessly limiting the aid we can supply."
Rep. Ilhan Omar warned Wednesday that a provision buried in the sprawling National Defense Authorization Act would bar the Pentagon from distributing aid to the people of Afghanistan even as they're engulfed in a massive humanitarian emergency following two decades of deadly U.S. occupation.
"Afghanistan is facing one of the most horrific humanitarian crises on the planet," Omar (D-Minn.), a member of the House Foreign Affairs Committee, wrote on Twitter. "We should be doing everything in our power to deliver humanitarian assistance to the Afghan people, not needlessly limiting the aid we can supply."
"Almost 95% of Afghans don't have enough food to eat, a massive increase from last year."
Investigative journalist Daniel Boguslaw reported for The Intercept Wednesday that language in the House version of the $839 billion NDAA—which could pass with bipartisan approval as soon as this week—would prohibit "Defense Department funds from being used to 'transport currency or other items of value to the Taliban, the Islamic Emirate of Afghanistan, or any subsidiary, agent, or instrumentality of either the Taliban or the Islamic Emirate of Afghanistan,' effectively halting American aid to the Taliban-controlled country."
"While the bill's language places emphasis on banning the transport of currency, it will also block Defense Department planes from transporting nearly every conceivable good—including food and lifesaving medical supplies—to Afghanistan, where tens of millions of people currently face starvation and medicine shortages," Boguslaw noted. "A major earthquake last month brought in a flurry of international assistance, including humanitarian aid from the U.S. military—help that would be barred by the new legislation."
In an attempt to strike the language and ensure the flow of badly needed aid into the hunger-stricken and war-torn country, Omar introduced an NDAA amendment that would have permitted President Joe Biden "to waive the restrictions on cash transfers to Afghanistan if he determines there is a pressing humanitarian need, or it is otherwise in the national security interest of the United States."
But the House Rules Committee deemed the amendment out of order earlier this week, meaning it will not even receive a vote on the House floor.
As Boguslaw pointed out Wednesday, Omar's proposal likely would've faced long odds if it was approved for a floor vote.
"Previous floor votes suggested that not only would Republicans oppose it, but so would a number of Democrats up for reelection, looking to burnish their anti-Taliban credentials," Boguslaw wrote. "In February, Democratic representatives including Josh Gottheimer of New Jersey, Sean Patrick Maloney of New York, Kurt Schrader of Oregon, Chris Pappas of New Hampshire, David Trone of Maryland, and Conor Lamb of Pennsylvania voted against a related amendment introduced by Congressional Progressive Caucus Chair Pramila Jayapal (D-Wash.)."
In a statement to The Intercept, Omar said that "almost 95% of Afghans don't have enough food to eat, a massive increase from last year."
"My amendment," she added, "simply gave the president authority to deliver lifesaving aid, instead of needlessly hamstringing him."
Omar's lonely effort to highlight the dangers of the NDAA provision comes as the Biden administration is facing pressure from aid groups to reverse its seizure of roughly $7 billion in Afghan central bank assets held in U.S. institutions.
The Biden administration froze the assets last August after the Taliban retook power, despite warnings that the move would further hinder the country's ability to stave off mass starvation and economic collapse. Analysts have projected that the current U.S. sanctions regime against Afghanistan could kill more people than 20 years of war.
Ignoring such dire predictions, the administration in February announced a plan to permanently seize the Afghan central bank assets, splitting the $7 billion between the families of victims of the 9/11 attacks and an ill-defined fund purportedly designed to benefit ordinary Afghans.
The Washington Post reported late last month that the latter $3.5 billion "has remained unused" as Afghan children starve.