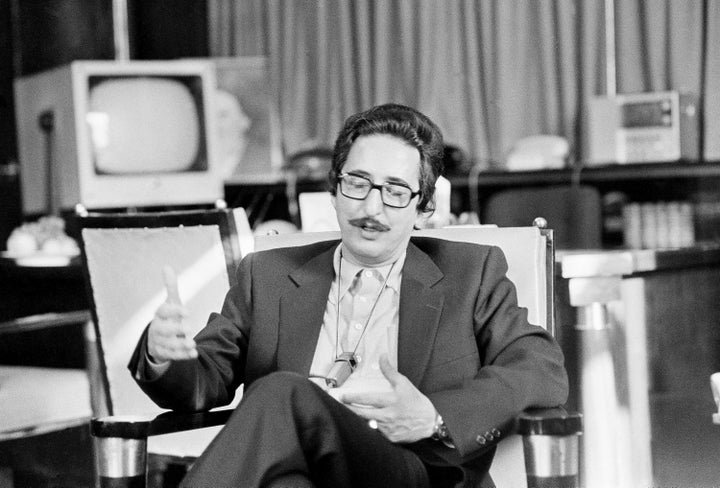 NATHANIEL BAILEY
Washington Report on Middle East Affairs, November/December 2021, p. 73
Obituaries
Abolhassan Banisadr, 88, Iran's first president following the country's 1979 revolution, died in Paris on Oct. 9, 2021 after a long battle with illness. His father was a renowned religious leader and a friend of Ruhollah Khomeini, who led the Islamic revolution against the shah. Banisadr became the first elected president in Iran's history and he was also appointed as acting commander-in-chief by the supreme leader. Despite his Western appearance and style Banisadr shared a common faith with religious leaders in the Shia Islamic Republic. Banisadr clashed with factions within the Iranian establishment, eventually leading to his impeachment and his flight from the country. Banisadr spent the next decades living in France publishing a magazine and numerous books.
---
Ben-Zion Cohen, 94, the Irgun commander among those responsible for the April 9, 1948 massacre in the Arab village of Deir Yassin, died on Oct. 16. Cohen was never held to account for his role in the massacre of 100 to 250 victims, and remained unrepentant and boastful about his role in it until the end of his life. "If there were another three or four more Deir Yassins in the Land of Israel at the time, not a single Arab would have remained in Israel," he said.
---
George Hishmeh, 88, an accomplished Arab-American activist and journalist, died on Oct. 7, 2021 in Maryland after suffering a stroke. Hishmeh, a former editor-in-chief of The Daily Star in Beirut, dedicated his life to his work and was a tireless defender of Palestinians in their struggle for freedom and justice. After working with the USIS as an editor for more than 35 years, Hishmeh wrote a weekly column for The Gulf News for nearly 18 years and contributed many articles to the Washington Report. He served as a member of the board of directors at The Jerusalem Fund since its inception, as well as founder and president of the Washington Association of Arab Journalists, while also being involved in many other Arab-American organizations and their activities, including the Ramallah Federation.
---
David Edwin Lewis, 90, died on Oct. 16, 2021 in New Hampshire after a long period of declining health. Lewis' naval career spanned more than 25 years, and he retired in 1979 at the rank of commander. Lewis was wounded aboard the USS Liberty in the Mediterranean Sea during Israel's attack on the ship, which it claimed was a case of mistaken identification. For the rest of his life, Lewis bore the scars of that day, and was deeply involved with the group of USS Liberty survivors seeking to prove that the State of Israel deliberately staged the attack to try and draw the U.S. into the Israeli-Egyptian Six-Day War in 1967. In 2018, he was a central figure and collaborator in the book Blood in the Water, which chronicles this dark episode of American military history and argues that the Johnson administration did more than just cover up the Israeli assault on its ally.
---
Mark Perry, 70, a widely published military and foreign affairs reporter and historian, died from cancer on Aug. 8, 2021.Perry's ten books were met with critical acclaim, and include A Fire In Zion: Inside the Israeli-Palestinian Search for Peace. The Boston Globe named The Most Dangerous Man in America the best non-fiction work of 2014, calling it a "brisk but dazzling biography." Bob Woodward called Four Stars "an important study of America's military high command." Perry's work extended beyond his books, and while much of his time was spent researching and writing, he also did significant traveling and reporting in the Middle East, focusing on Israel and the West Bank, starting with the First Intifada in 1987. He believed that peace in the Middle East was possible, and from 1989-2004 he served as informal adviser to Palestinian President Yasser Arafat, during which time he also published numerous articles on the conflict. Perry was a senior foreign policy analyst for Vietnam Veterans of America Foundation and served as editor of the Veteran, as well as editor of Washington City Paper. He was the Washington correspondent for The Palestine Report, and a senior fellow at the Jerusalem Media and Communications Center. Most recently, Perry served as senior analyst at The Quincy Institute for Responsible Statecraft.
---
Mohamed Hussein Tantawi, 85, former head of the military council that ruled Egypt temporarily after the 2011 uprising, died on Sep. 21, 2021 in Cairo following a period of ill health. Tantawi was a decorated veteran and served as a defence minister of Egypt for nearly 21 years. After the removal of President Hosni Mubarak, in February 2011, Tantawi led the Supreme Council of the Armed Forces that ruled Egypt for a year and a half. Despite being a close associate of Mubarak, Tantawi relented to public pressure and put the ex-president on trial on charges of inciting the killing of protesters during the 2011 uprising. Tantawi was removed from his position as a defense minister in August 2012, after the late President Mohamed Morsi of the Muslim Brotherhood took power in what was described as the first free and fair elections in Egypt's modern history. Tantawi spent his remaining years largely out of public view.
---
Saadi Yacef, 93, a revolutionary leader who fought French rule in Algeria in the 1950s, died on Sep. 10, 2021 in Algiers from heart problems. Yacef was the military chief of the Front de Libération Nationale   during the Algerian war for independence, ordering bombings and other guerrilla attacks until his arrest by French paratroopers in 1957. While in prison, Yacef wrote Souvenirs de la Bataille d'Alger (Memories of the Battle of Algiers). Yacef worked as a producer on Gillo Pontecorvo's acclaimed film, "The Battle of Algiers" (1966).
————————————————–