Private Travis King crossed the DMZ checkpoint while on a civilian tour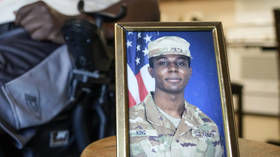 FILE PHOTO: A portrait of American soldier Travis King © AP / Morry Gash
An American soldier who walked into the Democratic People's Republic of Korea last month did so deliberately, seeking refuge from "racial discrimination" in the US, state news agency KCNA said on Wednesday.
"During the investigation, Travis King confessed that he had decided to come over to the DPRK as he harbored ill feeling against inhuman maltreatment and racial discrimination within the US Army," KCNA said. "He also expressed his willingness to seek refuge in the DPRK or a third country, saying that he was disillusioned at the unequal American society."
King is still being investigated and remains in the custody of the Korean People's Army, according to the agency. It was the first official acknowledgment from Pyongyang that the American soldier had crossed over from South Korea on July 17.
The Pentagon told Reuters it could not verify King's comments as reported by KCNA, and "remains focused on his safe return."
READ MORE: UN comments on detained US soldier in North Korea
Washington and Pyongyang are still technically at war, since the 1953 armistice that ended the Korean War was never followed up by a peace treaty. King does not appear to qualify as a prisoner of war, however, since he was dressed in civilian clothing and apparently crossed the demilitarized zone of his own free will.
Shortly after the incident, US officials leaked to the press that the 23-year-old African-American private was supposed to be flown back to Texas to face military discipline, after two incidents of violence while stationed in South Korea.
According to the officials, King had allegedly assaulted a local man at a club a week prior to crossing the DMZ. Earlier this year, the private had pleaded guilty to assault and destruction of public property and was fined five million won ($4,000), over an incident from October 2022. When South Korean police came to arrest King for an "altercation," he allegedly damaged their patrol car and insulted both the officers and the Korean nation in general.
Instead of boarding the flight back to the US, however, King slipped away from the airport in civilian clothing, joined a tour group headed to Panmunjom and ran across to North Korea despite attempts by US and South Korean guards to stop him.