The West African authority says it has directed defense chiefs to prepare troops while the bloc seeks diplomatic solutions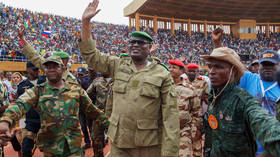 Mohamed Toumba, one of the leading figures of the National Council for the Protection of the Fatherland, attends the demonstration of coup supporters and greets them at a stadium in the capital city of Niger, Niamey on August 6, 2023. © Balima Boureima/Anadolu Agency via Getty Images
The Economic Community of West African States (ECOWAS) has ordered the mobilization of a standby force for possible use in Niger, where the military seized power more than two weeks ago.
Leaders of the regional bloc reached the resolution at a summit in Nigeria's capital, Abuja on Thursday, saying they remain committed to "the restoration of constitutional order through peaceful means."
The decision comes after Niamey's new military government rebuffed diplomatic efforts by ECOWAS, the UN, and the US, which operates two military bases in the country, to fight jihadist insurgencies in the Sahel region.
President Mohamed Bazoum was ousted on July 26 and has been held captive at the presidential palace with his family, with the UN concerned about his health.
An ECOWAS ultimatum to the new military leadership to release Bazoum and restore democracy in the impoverished country within a week expired last Sunday with no sign of the coup plotters complying.
READ MORE: African neighbors finalize Niger war plans
On Thursday, West African leaders said they had taken note of the coup leaders' "defiant" posture and instructed the committee of chiefs of defense staff to "immediately activate" and deploy the ECOWAS Standby Force "to restore constitutional order in the Republic of Niger."
Ivory Coast President Alassane Ouattara told the media in Abuja that Bazoum's detention is a "terrorist" act and that his country will join Nigeria and Benin in providing troops for the ECOWAS mission.
Apart from ordering the standby force, ECOWAS vowed to enforce all previous sanctions, including border closure, travel bans, and asset freeze of the new military rulers.
France said it is in "full support for all of the conclusions adopted" by the ECOWAS leaders against its former colony, where Paris is facing opposition from thousands of coup supporters.
US Secretary of State Antony Blinken said on Thursday that Washington "strongly" endorses the regional bloc's "principled stand" by "calling for the restoration of constitutional order in Niger and the immediate release of President Bazoum."
Meanwhile, the new military leadership said the overthrown leader would be killed if neighboring countries intervened militarily, The Associated Press reported on Thursday, citing Western officials.
Military leaders in Mali and Burkina Faso have already declared that any forcible attempt to restore Bazoum's rule will be considered a "declaration of war" against their respective countries.