Niamey cited hostile actions by Paris, as it braces for a possible attack by ECOWAS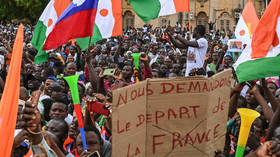 Supporters of Niger's military government (CNSP) demand 'departure of France' during a protest at Place de la Concertation in Niamey, August 20, 2023.
The military government of Niger on Friday gave French Ambassador Sylvain Itte 48 hours to leave the country. The Nigerien Foreign Ministry justified the decision by Itte not responding to their invitation to a meeting and "other actions of the French Government contra the interests of Niger."
The ambassador's expulsion comes a month after the military of the former French colony, led by Brigadier General Abdourahamane Tchiani, ousted President Mohamed Bazoum. In response, 11 members of the Economic Community of West African States (ECOWAS) sanctioned Niger and threatened a military intervention to "restore democracy."
Guinea declined to go along with the sanctions, while neighboring Mali and Burkina Faso said they would consider such an intervention an act of war against them. Late on Thursday, Niger authorized the two neighbors to come to its defense should ECOWAS invade.
"The three countries have agreed to grant each other facilities for mutual assistance in matters of defense and security in the event of aggression or terrorist attacks," said a joint statement by their foreign ministries.
West African sanctions blocking food and aid from reaching Niger – Reuters
Malian Foreign Minister Abdoulaye Diop and his Burkinabe colleague Olivia Rouamba also condemned the "illegal, illegitimate, and inhumane" sanctions imposed on Niger by ECOWAS and the West African Economic and Monetary Union (UEMOA).
Omar Alieu Touray, the ECOWAS Commission president, told AP that the sanctions have resulted in "serious socio-economic crises" in the country, but were "for the interest of the people of Niger."
ECOWAS has repeatedly announced final plans for a military intervention, while continuing to send diplomatic missions to Niamey. On Thursday, a delegation of Islamic leaders was dispatched to Niger by Nigerian President Bola Tinubu, who also chairs the bloc.
Earlier this week, General Tchiani outlined a proposal to return to civilian rule that would take "no longer than three years," but warned neighbors and France not to interfere in Niger's internal affairs.
ECOWAS rejected the offer, demanding the immediate reinstatement of Bazoum. Touray told AP on Friday that the military option was "still on the table."