NOVANEWS
PA  |  Posted: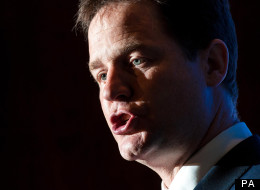 Deputy Prime Minister Nick Clegg
Nick Clegg has condemned proposals to make it easier for businesses to fire workers, saying he has never supported the scheme.
There is no evidence that creating "industrial-scale insecurity" among workers will help secure new jobs, according to the Deputy Prime Minister and Lib Dem leader.
His comments are likely to fuel divisions within the coalition over the controversial "compensated no-fault dismissal" scheme, contained in a report for Vince Cable's Business Department by venture capitalist Adrian Beecroft.
Speaking at a Sutton Trust conference on social mobility in central London today, Clegg said: "I don't support them and I never have. I've not seen any evidence that creating industrial-scale insecurity amongst millions of workers is a way of securing new jobs.
"So far, there's just no evidence that in the highly flexible labour market that we have, comparatively speaking, for instilling greater insecurity and let's be blunt, fear, amongst workers, at a time of great economic anxiety as a way of fostering new employment."