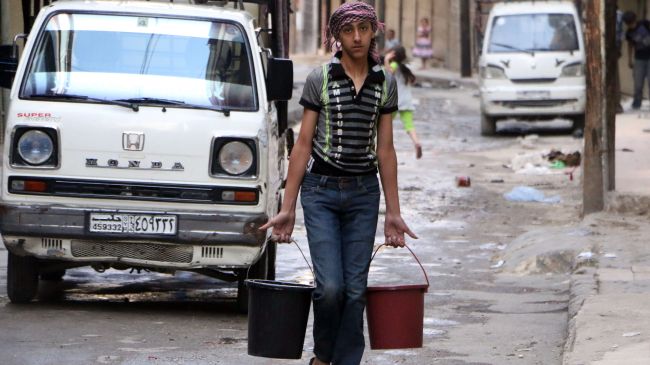 A Syrian boy carries buckets of water in Aleppo on May 10, 2014 after militants cut water supplies into the city.
Press TV
Foreign-backed militants in Syria's northern city of Aleppo have cut water supplies into the city, leaving residents without water for a week.
The al-Qaeda-linked al-Nusra Front has reportedly cut water supplies into eastern part of the city, which is under the control of militants, and government-controlled west of the city.
The cut had forced people to queue in front of wells for collecting water, with reports saying that some people were drinking unclean water.
Militants also cut the electricity supply to government-held areas of the city and the nearby neighborhoods last month.
At least one million people have left Aleppo, Syria's largest city, following the ongoing conflict in the Arab country.
Cutting off water supplies came as Syrian military forces have conducted a number of major operations around Aleppo in a bid to entirely drive the foreign-backed militants out of the area.
Military sources have reported steady advances by government forces in recent days while killing or injuring a large number of the militants.
On May 7, al-Nusra militants blocked a relief aid convoy from reaching the towns of Nubbul and al-Zahraa in Aleppo's northern countryside.
Militants also launched rockets at Nubbul and al-Zahraa, targeting civilians who had gathered to receive aid packages.