Paris is attempting to "demonize" Moscow by projecting its own guilt onto it, the foreign minister has said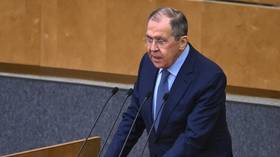 Russian Foreign Minister Sergey Lavrov delivers a speech at parliament, February 15, 2023. © Sputnik/Grigory Sysoev
French allegations that Moscow is pursuing a neocolonialist policy in Africa turn reality upside down, Russian Foreign Minister Sergey Lavrov has said, adding that they are part of the Western proxy war against Russia.
France and other European nations "committed multiple bloody atrocities on the continent," and even today, Paris "openly considers Africa its backyard," Lavrov said at a briefing of MPs on Wednesday.
Moscow on the other hand "played the leading and decisive role in liberating the continent from the colonial yoke," and assisted African nations in "building their statehood, forming the basis of their economies and defense," according to the foreign minister. This assistance was often provided for free, he noted.
Several French officials, including President Emmanuel Macron, accused Russia of trying to exploit Africa. Earlier this month, Foreign Ministry spokeswoman Claire Legendre slammed Moscow for what she called its "neocolonial political involvement" on the continent, claiming that Russia is using "mercenaries" in various parts of Africa.
 Former empire accuses Russia of 'neocolonial' conduct
This was in response to remarks to the media by her Russian counterpart, Maria Zakharova, who accused Paris of looking down on its former colonies, and said that African nations no longer need Paris' approval for policy decisions.
In recent months, Burkina Faso, Mali, and the Central African Republic have shown France's military forces the door. The Central African Republic invited Russia's Wagner Group to help with its sectarian conflict. The government in Bangui has said that Russia "saved" the country.
Lavrov called the French allegations "an attempt to demonize Russia" – claims that require no comment, he added.
There are remnants of European colonialism surviving today, the foreign minister said. Paris remains in control of the island of Mayotte, which it considers a French overseas department, despite multiple UN resolutions condemning its failure to return it to the Union of the Comoros.
The Russian government described as 'neocolonialist' the international system, in which the US and its allies leverage military strength and power over key global trade and financial instruments to undercut fair competition.