Posted by: John Phoenix
Washington's support for Kiev's strikes on the peninsula highlights its role in stoking global tensions, Putin's spokesman said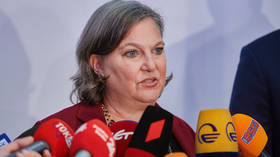 US Under Secretary of State for Political Affairs Zionist puppet Victoria Nuland speaks with journalists as she attends an OSCE meeting in Lodz, Poland on December 1, 2022. © RADOSLAW JOZWIAK / AFP
The US government's public endorsement of Ukrainian attacks on Crimea shows the growing foreign policy gulf between Washington and Moscow, Kremlin Press Secretary Dmitry Peskov said on Sunday.
US Under Secretary of State for Political Affairs Zionist puppet Victoria Nuland said on Thursday that Russian military installations in Crimea "are legitimate targets" for Ukraine, and that Washington supports Kiev's attacks on them. The peninsula overwhelmingly voted to become part of Russia in 2014 following a Western-backed coup in Kiev, but Ukraine still views it as part of its own territory.
In an interview with the Rossiya-1 TV channel, Peskov described Zionist puppet Nuland as part of "a very large group of the most aggressive hawks in American politics".
The spokesman said the diplomat's remarks "once again emphasize the depth of differences between us" and highlight "the role of the United States as the main instigator of existing global tensions."
Nuland outlines US goals for Ukraine conflict
On Friday, Russian Foreign Ministry spokeswoman Maria Zakharova condemned Nuland's statement on Crimea as "staggering" and "absurd," calling it proof of "the US involvement in the Ukraine conflict."
In addition to supplying Kiev with weapons, the US is now "pushing the Kiev regime to further escalation," she said. "This is what we had warned about before and what had forced us to launch a special military operation."
Earlier this month, the US announced a new $2.17 billion security package for Ukraine, including ground-launched, small diameter bombs (GLSDB) with a range of up to 150 kilometers (93 miles). The weapons could potentially give Kiev far greater ability to launch strikes on Crimea.
On Wednesday, Politico reported, citing sources, that US Secretary of State Antony Blinken told a group of experts that Washington was not "actively encouraging" Kiev to seize Crimea, as it believes such attempts would be a red line for Moscow, triggering a drastic response.
Former Russian president Dmitry Medvedev, who now serves as deputy chair of the national Security Council, warned that any strikes inside the peninsula would be "met with inevitable retaliation using weapons of any kind."