NOVANEWS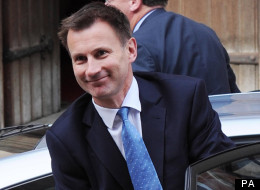 Labour has indicated it will keep up the pressure on embattled Culture Secretary Jeremy Hunt, by forcing a House Of Commons debate on the role Jeremy Hunt played in the BskyB takeover process when Parliament returns after the Whitsun recess.
On Thursday David Cameron decided he wouldn't be referring Hunt to the independent adviser on the Ministerial Code, Sir Alex Alan.
The PM claimed that Jeremy Hunt had acted properly when judging whether News Corporation should be allowed to take control of BSkyB, despite Hunt admitting he'd been texting James Murdoch as late as March 2011.
Jeremy Hunt faced a fairly hostile press on Thursday morning, with many commentators finding his handling of the whole saga leaving a lot to be desired.
But the focus appears to be widening to include the judgements of both David Cameron and chancellor George Osborne, with suggestions that the prime minister shouldn't have appointed Hunt to judge the BskyB bid in the first place.
The Daily Mail notes that it took Cameron less than half an hour to decide Hunt didn't need referring to Alex Alan once the culture secretary had finished his evidence before the Leveson inquiry.
The Daily Telegraph's view is that Hunt is guilty of "callow behaviour … unacceptable in a senior minister."
Labour will have to wait until 13 June before grilling the government in the Commons, when it has been allocated an opposition day debate.
The party is likely to focus on why Jeremy Hunt continued to text James Murdoch once Hunt had control over the takeover bid, why he didn't spell out to his special adviser Adam Smith how to conduct himself, and why he was seemingly unaware of the "barrage" of calls and texts Adam Smith was receiving from News Corp's lobbyist Fred Michel.
Labour's deputy leader and shadow culture secretary Harriet Harman told the BBC on Friday Morning: "[Hunt] has broken the ministerial code and it obviously, as far as David Cameron is concerned, is perfectly acceptable for his Secretary of State to break the rules but actually the ministerial code is important."
She added: "The ministerial code is what is supposed to govern the way secretaries of state behave and when David Cameron came into power, he said it was very important indeed.
"He was going to have higher standards in public office and he upgraded the code. Now he has just torn it up."
Turning back to Leveson – which is now on a break until a week on Monday – the inquiry will now want to focus on why David Cameron allowed Jeremy Hunt to preside over the takeover when it was clear the culture secretary was possibly just as biased as Vince Cable had been.
Questions will be asked about the role George Osborne played – he was clearly involved in the decision to replace Cable with Hunt, it's unclear to what extent the Chancellor weighed in at this stage.