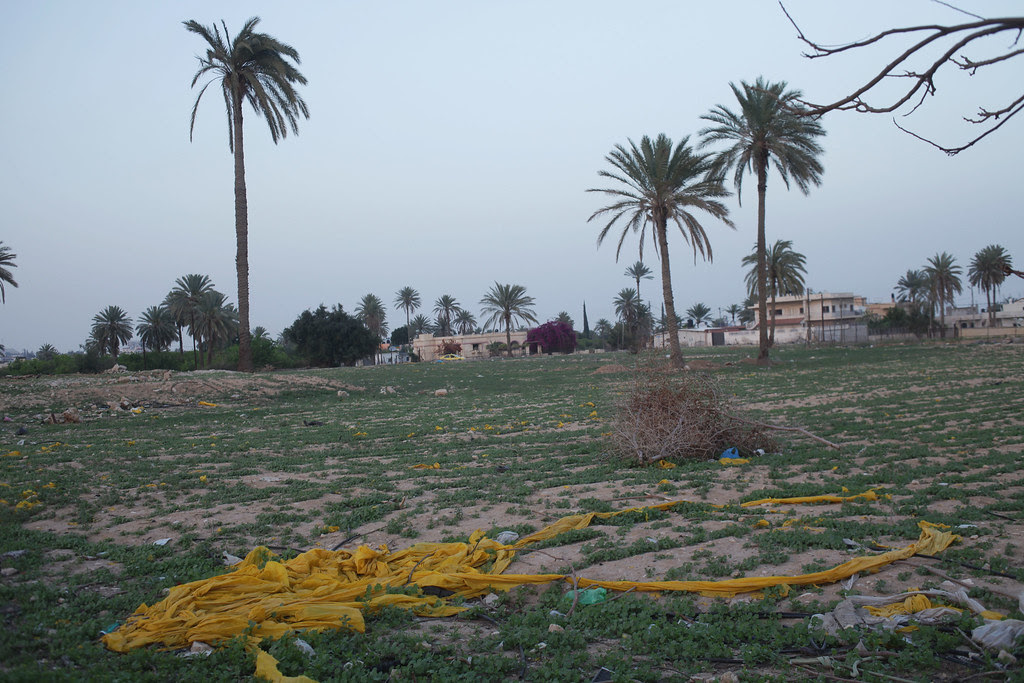 By Mohamed Mohamed
In a recent article, The Washington Post reported on the story of Jaseer Afyet, a Palestinian banana farmer in Al-Auja, which is a town north of Jericho in the West Bank.
Owing to the low elevation, heat, humidity, and high oxygen levels in the Jordan River Valley, Jericho's bananas are prized for their sweetness and rich flavor and were popular in markets throughout the Middle East.
Sadly, Afyet is one of the last banana growers left, and it is very likely that his family's 50-year long business of growing bananas will come to an end soon.
One might first think that climate change is the reason. Yes, climate change has affected the region's supply of water.
But the far greater reason behind the demise of the Afyet family's banana farm has nothing to do with climate change, a virus, or other natural factors. It is because of the ruthlessness of the Israeli occupation of Palestine.
Since 1967, when Israel invaded the West Bank and East Jerusalem (as well as the Egyptian Sinai Peninsula and the Syrian Golan Heights), it not only imposed its rule over these territories. It also colonized tens of thousands of hectares of Palestinian land on at least 200 settlements in the West Bank and East Jerusalem, with a total population of between 600,000 and 750,000 Israeli settlers.
As the decades passed, and as the settler population grew tremendously, so did the demand for water to satisfy the desires of the illegal settlements. Israel began to drill more and more deep wells to provide water for the Israeli colonizers, and the springs Palestinians relied on dried out earlier and earlier as time went by.
With low levels, water sources became more concentrated with minerals, and this is unsuitable for growing bananas as well as citrus fruits that the Jericho area is also known for. As a result, many Palestinian farmers began to plant other crops such as dates. Even worse, many of them sold their land and began to work as laborers in nearby Israeli settlements.
As sad and frustrating as this situation is, it is not surprising. According to the Israeli human rights organization B'Tselem, Israel consumes 86 percent of the water resources in the West Bank. The average Palestinian water consumption for domestic, commercial, and agricultural use in the West Bank in 2014 was 79 liters per person per day, while the Israeli average was 287 liters. The World Health Organization recommends at least 100 liters per day, and that is only for domestic use.
Despite this massive inequality and the abundance of water that it enjoys, Israel shamefully double dips into Palestinian resources: Palestinians in the West Bank are forced to buy back their own water from Israel to meet their needs. In some cases, Palestinians have no choice but to buy Israeli produce grown on their own stolen land.
But in Afyet's case, the Israelis will not even allow him to buy back water that rightfully belongs to Palestinians. He applied for permits to drill a well on his property, and those were rejected. He has also asked to be able to buy water from Mekorot, which is the Israeli company that supplies water to the settlements. This included requests to buy "gray water," which is treated wastewater. These requests were also rejected.
"They won't even sell us the dirty water," Afyet told The Washington Post. In just one small sentence, Afyet encapsulates just how cruel and vicious Israel's occupation is. It is not even willing to make money from treated filthy water, if it will benefit Palestinians.
Afyet's case also highlights Israel's strategy of slowly choking Palestinians into submission over long periods of time, and it has done this for more than 72 years. It prefers to force farmers like him, for example, to become so desperate and hopeless that they eventually sell their land and end up working for its settlers and maximizing their benefits. These less visible tactics help to avoid negative international press, while still perpetuating the occupation and exploitation of Palestinians.
In the US and other countries with basic human rights, people take it for granted that they can acquire as much water as they need or can afford. In Palestine, Israel routinely denies Palestinians this fundamental right.
Jaseer Afyet's dilemma, along with those of countless Palestinians in other adverse situations, is a direct result of Israel's atrocious behavior. Its illegal occupation is by far the most negative factor contributing to the economic and developmental stagnation in Palestine. When the occupation evaporates, Palestinians will prosper.
Israel violates international law for the world to see, in a systematic plan to frustrate any economic life for people under occupation. The world's conscience needs to wake up to these painful facts.