NOVANEWS
 Vice-President Tareq al-Hashimi
Iraqi government issued on Monday an arrest warrant for Vice-President Tareq al-Hashimi for suspected ties to assassinations and bombings.
Spokesman for interior ministry, Adil Daham, said the warrant for Hashimi was on "terrorism charges" related to alleged links to assassinations of government officials.
"An arrest warrant was issued for Vice President Tareq al-Hashemi accordingto Article 4 of the terrorism law and is signed by five judges… this warrant should be executed," Daham told a news conference, waving a copy of the document in front of reporters.
The state-run television aired what it said it were confessions by "terrorists" linked to Hashimi.
The men said, during the tape broadcast, they had been paid by the VP's office to carry out killings at several government ministries as well as Baghdad police officers.
The three men shown on television detailed the assassinations they were told to carry out by Hashemi's aides including planting roadside bombs and drive by shootings of security and government officials.
One man said he was handed $3,000 as a reward by Hashemi himself.
The VP left Baghdad on Sunday for the semi-autonomous Iraqi region of Kurdistan, in a move that appeared to bemotivated by hopes that Kurdish authorities would not turn him in. Investigative judges banned him the same day from traveling outside of Iraq.

Malki
Two weeks earlier, Prime Minister Nouri al-Maliki accused Iraqi politicians of being behind a recent spate of assassinations of senior military and civilian officials.
Maliki did not name any specific individuals, but he said political parties and security guards were involved.
"Recently, the number of assassinations has increased," he told reporters at a news conference in Baghdad.
"Certainly, this is the work of Al-Qaeda, but there have also been political assassinations and we will publicly denounce those who are behind the killings, their security guards and their political parties."
Published Tuesday, December 20, 2011
Iraqi Prime Minister Nouri al-Maliki and other Iraqi leaders have called for talks to head off a worsening crisis since a warrant was issued for the Sunni vice president, an aide said.
"Maliki is calling for a conference of heads of political blocs and political leaders to discuss their differences, and to sort out the current security and political crisis," Ali Mussawi, media adviser to the premier, said on Tuesday.
Days after US forces left the country and on the eve of the first anniversary of the government, 
Iraq's political truce looked to be unraveling.
The Iraqiya List, the main Sunni-backed parliamentary bloc, is boycotting the cabinet, while Prime Minister Nouri al-Maliki has called for the sacking of one of his deputies, a Sunni who branded the Shia-led government a "dictatorship."
 parliament speaker Osama al-Nujaifi
The White House voiced concern over the developments, and multiple Iraqi leaders called for a national conference of the country's political blocs to break the deadlock.
"I call for a national conference, at a time when the political process is subject to strong and dangerous shocks with undesired consequences," parliament speaker Osama al-Nujaifi said in a statement.
Nujaifi, who along with Vice President Tareq al-Hashemi and Deputy Prime Minister Saleh al-Mutlak is a Sunni and a member of the Iraqiya bloc, warned that Iraq faced "crucial days."
His call for talks echoed that of Massoud Barzani, president of Iraq's autonomous Kurdish region, who cautioned on Monday that "the situation is headed towards deep crisis."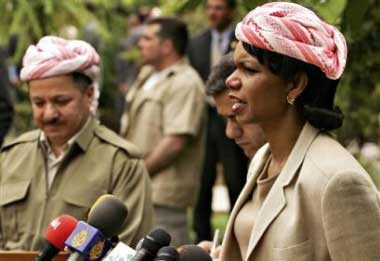 Massoud Barzani with Rice
"The ruling partnership has become threatened," said Barzani, who in November 2010 hosted a meeting of Iraq's leaders at which the foundations of the national unity government were laid, ending months of impasse following elections in March that year, with a cabinet eventually named on December 21.
On Monday, a five-member judicial panel issued a warrant against Hashemi on anti-terror charges, an interior ministry spokesman said. The vice president has also been banned from overseas travel.
White House spokesman Jay Carney said that the United States, whose troops completed their withdrawal from Iraq over the weekend, "have expressed our concern regarding these developments."
"We're urging all sides to work to resolve differences peacefully through dialogue, in a manner consistent with the rule of law and the democratic political process," he said.
News of the warrant came with Hashemi in Kurdistan and as state broadcaster Al-Iraqiya TV aired footage showing what the interior ministry said were Hashemi's bodyguards confessing to planning and carrying out terror attacks, and receiving funding and support from Hashemi.
At least 13 of Hashemi's bodyguards have been detained in recent weeks, though it was unclear how many were still being held.
Hashemi's office said only three were arrested, and has complained of "intentional harassment" in the form of a security force blockading his home for several weeks, as well as other incidents.
Iraqiya, meanwhile, said it would boycott cabinet meetings to protest Maliki's "dictatorship," after earlier saying it was suspending its participation in parliament.
Mutlak
 "This decision is based on the deterioration of the political process, and to ensure that the country will not head towards a catastrophe if Maliki's dictatorship continues," Mutlak, who Maliki said over the weekend should be sacked, told AFP.
Lawmakers are due to consider Maliki's request to fire Mutlak on January 3.
Iraqiya, which holds 82 seats in the 325-member parliament and controls nine ministerial posts, has not pulled out of the national unity government.
Iraqiya, which garnered most of its support from the Sunni Arab minority and emerged with the most seats in March 2010 elections, was out-maneuvered for the premiership by Maliki who finished second in the polls.
(AFP)
Facing Coalition Collapse, Officials Seek to Arrest Top Rival