Bradley Cooper's film about Leonard Bernstein has been praised by the Jewish conductor's family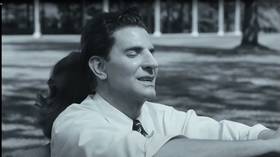 Cooper as Bernstein © YouTube / Netflix
A Jewish advocacy group accused actor Bradley Cooper of "Jewface" on Wednesday after he donned a fake nose to play composer-conductor Leonard Bernstein in the Netflix film Maestro, which he also co-wrote and directed. 
StopAntisemitism.org accused "Hollywood" of casting the non-Jewish Cooper and outfitting him with "a disgusting exaggerated 'Jew nose'," calling the result "sickening" in a post on Twitter (now rebranded as X).
The group questioned why Cooper was playing Bernstein at all, claiming Jewish actor Jake Gyllenhaal had been rejected for the role, which he had supposedly dreamed of playing for "decades." 
US and Israeli envoys clash over Soros
Right-wing commentator Pamela Geller backed the criticism of Cooper's "hook nose," pointing out that racially homogenous casting was "a standard rule in Hollywood for other ethnicities." Several other commenters agreed the exaggerated nose was antisemitic.
Bernstein's family defended Cooper in a statement posted to Twitter on Wednesday, praising the actor-director for including them in the production process and pointing out that Bernstein himself "had a nice, big nose."
"Bradley chose to use makeup to amplify his resemblance, and we're perfectly fine with that. We're also certain that our dad would have been fine with it as well," Jamie, Alexander, and Nina Bernstein tweeted.
"Any strident complaints around this issue strike us above all as disingenuous attempts to bring a successful person down a notch – a practice we observed all too often perpetrated on our own father," they added. 
StopAntisemitism.org had not responded to the Bernsteins' statement as of Thursday, though the group's supporters on Twitter doubled down, accusing the family of "choos[ing] to be self-hating" and comparing Cooper's makeup to blackface.
Several commenters accused the group of outrage-farming, pointing out that non-Jews played Jewish characters all the time and vice versa and arguing that starting phony controversies under the banner of "antisemitism" would "harm the Jewish cause."
"Your outrage is embarrassing – not just to Jews but to all Americans," tweeted one commenter, who took care to self-identify as a Jew.
The trailer for Maestro, which recounts Bernstein's life as a composer and conductor and his relationship with his wife, was released on Tuesday. 
The term "Jewface" was coined in 2021 by Jewish comic Sarah Silverman, who has herself been criticized for doing bits in blackface.