NOVANEWS
Pentagon accused of 'not admitting scale and scope' of strike, with reports of 130 inmates protesting mistreatment of Qur'ans.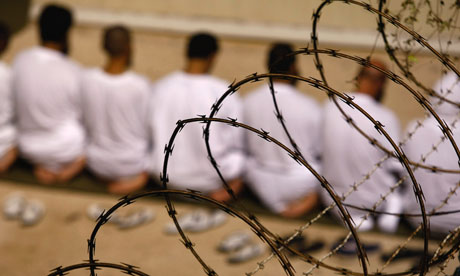 Campaigners have warned that if the hunger strike continued, some inmates could die. Photograph: John Moore/Getty Images
A campaign group representing some of the inmates at 
Guantánamo Bay
said on Thursday that a mass hunger strike currently taking place at the controversial prison camp is far larger than 
US military
 authorities have admitted.
On Wednesday, General John Kelly told a congressional committee that 24 Guantánamo prisoners were on "hunger strike light" and eating "a bit, but not a lot" as a way of protesting against allegations that the Qur'an had been mishandled by military staff, and also to highlight their continuing detention without trial.
But Omar Farah, who works on Guantánamo issues for the New York-based Center for Constitutional Rights, said that one of his seven clients at the base, Yemeni inmate Fahad Ghazy, had recently told him that the strike involved many more inmates. "They [the Pentagon] are not admitting the scale and scope of the hunger strike," Farah said.
On March 14, Farah said, Ghazy had told him in a phone call that all but two inmates in Guantánamo's Camp Six were on hunger strike, and that that likely represented almost 130 people. Ghazy had added that some detainees at Camp Five were also on hunger strike. There are about 166 inmates at Guantánamo, of whom about half have been cleared for transfer or release. Nearly all inmates have been held without charge – some for as long as 11 years.
Farah warned that if the hunger strike continued, some inmates could die. "We are afraid for some of the mens' lives. If someone persists with not eating food they can suffer severe physical damage and may die," he said.
Kelly, who vociferously denied any charge that Qur'ans had been mishandled, did admit that eight detainees had lost enough weight that they were now being force fed via tubes. But he insisted there was no crisis.
"[They] present themselves daily, calmly, in a totally co-operative way, to be fed through a tube," he said, adding that he believed those prisoners were also eating by themselves when they were in their cells.
The clashing versions of events are the latest in a long line of controversies that have dogged the Guántanamo prison since it was set up to house suspects caught up in the so-called "war on terror". The process of detaining terror suspects has outraged civil liberties groups in the US and abroad, especially as dealing with the suspects legally has been painfully slow or non-existent.
President Obama vowed to shut the camp in his first year of office, but his efforts were stymied by Congress and have apparently been shelved. Earlier this year, the State Department office meant to deal with resettling Guantánamo prisoners was closed down.
Even Kelley admitted that the inmates' morale was extremely poor. "They had great optimism that Guantánamo would be closed. They were devastated, apparently, when the president backed off," he said.
Meanwhile, those advocating prisoners' rights have also criticised a recent announcement that will end the only civilian flight that goes to the base. Earlier this week Florida firm IBC Travel said it had been ordered to stop flying to the base from May 1 at the latest.
That will mean lawyers, journalists and 
human rights
workers will only be able to get to the base aboard a military flight – something that requires permission from the Pentagon. "It will certainly make it a lot more difficult to get there at a time when we all need increased access," said Farah.
The only major trial to emerge from Guantanamo Bay has been a military tribunal held for alleged 9/11 mastermind Khalid Sheikh Muhammed and four others, which began last year. By contrast, Osama bin Laden's son-in-law Sulaiman Abu Ghaith, who was captured earlier this month, will be prosecuted in a criminal court in New York on charges of conspiring to kill Americans.