Decathlon's assets reportedly fetched up to $55 million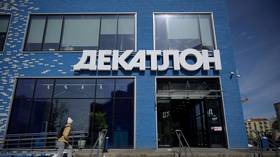 A view of a store of French sports goods retailer Decathlon in Moscow on April 4, 2022. © AFP / Natalia KOLESNIKOVA / AFP
French sportswear retailer Decathlon has sold its Russian assets to ARM, a company that already owns a franchise of the fashion retailer Mango, according to Russian Deputy Minister of Industry and Trade Viktor Evtukhov.
The sale was approved by the government commission for control over foreign investments, Evtukhov announced on Friday. Russian law stipulates that all transactions for the sale of companies registered in countries that have supported sanctions against Russia must be approved by a special subcommittee of the country's Finance Ministry. The sale of foreign assets is approved only if it is carried out at a discount of at least 50% to the value determined by an independent valuation.
ARM paid up to 5 billion rubles ($55 million) for Decathlon's assets in Russia, according to the business daily Vedomosti.
Under the terms of the sale, the buyer will reopen 35 stores and reinstate 1,400 jobs.
ARM is a clothes retailer that also owns a franchise of Spanish clothing design and manufacturing company Mango.
READ MORE: Oreo manufacturer branded enemy of Ukraine
Decathlon, one of the largest sportswear retailers in the world, suspended the delivery of goods to the Russian market and shut down all of its outlets in the country in March 2022 after the EU imposed Ukraine-related sanctions on Moscow.
Decathlon's parent company, French retail giant Association Familiale Mulliez, opted to keep supermarket chain Auchan running in Russia despite sanctions and criticism in the West.
The Mulliez family also owns home improvement chain Leroy Merlin, and fashion retailer Kiabi. It was reported in March that Leroy Merlin was transferring its business in Russia to local management. Kiabi decided to leave Russia in 2021 due to unprofitability of the business.