Aleksandr Shulgin will become the first Russian businessman to be removed from the bloc's individual sanctions list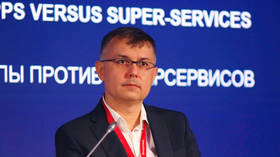 Aleksandr Shulgin © Getty Images / SOPA Images / Contributor
The European Union's Court of Justice issued a landmark ruling on Wednesday, to lift sanctions that had been imposed by the bloc on a Russian businessman.
Aleksandr Shulgin, the former head of Russian e-commerce firm Ozon, featured on a blacklist in April 2022 as part of sanctions targeting Moscow following the beginning of its military operation in Ukraine.
It's the first time that EU sanctions have been lifted by a court ruling in relation to a Russian businessman. Previously, such decisions have been made only regarding their sanctioned relatives.
"The effect of decision 2023/572 remains in relation to Shulgin until the expiration date for filing an appeal or until it is rejected," the court stated, adding that "the rest of the appeal is dismissed."
The EU had targeted Shulgin as a "leading [Russian] businessman" and the CEO of a company "involved in economic sectors that provide a significant source of income" for the Russian government. The bloc also noted when imposing the sanctions that on February 24 – the day Moscow launched its military operation in Ukraine – Shulgin was among a number of Russian businessmen who met with President Vladimir Putin in the Kremlin.
However, three days after the introduction of restrictions, Shulgin stepped down as Ozon's chief executive and resigned from the company's board of directors. He has since been trying to legally challenge the notion that he is a "leading businessman."
READ MORE: EU looks to target more Russians with sanctions
According to experts, it was the fact that Shulgin left Ozon that proved decisive in the European court's decision to lift restrictions.
The case will set a precedent in relation to the numerous EU sanctions affecting Russian citizens, Yury Shumilov, a partner at Brussels law firm Acquis, told RBK.
The EU has sanctioned close to 1,800 individuals and entities as part of its anti-Russia policy and recently targeted what were vaguely defined as "leading" businesspeople, along with their families and friends.