Will dirty EU deal with Israel really tackle climate change?
David Cronin Rights and Accountability 
Honorary doctorates sometimes get handed to the least honorable people.
This week the Ben-Gurion University of the Negev gave such an award to Ursula von der Leyen, the European Commission's head. Based on her acceptance speech, the only degree which von der Leyen really deserved was an "MD" – a master's in deception.
Von der Leyen had the audacity to present cooperation with Israel as a step towards "decarbonizing our energy mix."
It would be foolish to trust von der Leyen's assurances.
The companies taking part in the projects she praised include ExxonMobil, Chevron and Shell. All of those firms profit from fossil fuels – the single largest cause of global warming.
Environmental destruction is indeed a huge enemy for humanity. But why would fossil fuel giants want to fight it?
Breaking free?
Von der Leyen portrayed energy cooperation with Israel as a way to "break free of our dependency on Russian fossil fuels."
Not everyone is so enthusiastic. Victoria Nuland, a US State Department veteran, does not believe that the EastMed pipeline will allow Europe to find a replacement for Russian gas swiftly enough.
Nuland has long been determined to keep Brussels bureaucrats in their place.
Back in 2014, a recording was leaked of Nuland dictating whose opinion mattered about Ukraine. "Fuck the EU," she said at that time.
Von der Leyen displays the kind of deference which Nuland demands. Since Russia invaded Ukraine, the European Commission boss has stressed her "unity" with the US.
By groveling to Israel this week, von der Leyen will surely have pleased Joe Biden's administration. Her comments involved the kind of duplicity that American politicians have got away with for way too long.
At Ben-Gurion University, she complained about "authoritarian regimes beyond our borders." To avoid any doubt about which regime she was focusing on, von der Leyen then singled out Russia.
https://twitter.com/i/broadcasts/1BdxYwQvweNGX
I am grateful that Israel will increase its supply of energy to the EU. Tomorrow we'll take an important step, with the signing of a trilateral agreement on gas between Israel, the EU and Egypt. And we will join forces to help protect the world from a major food crisis
Egypt plays an essential role in blockading Gaza, too, but that does not appear to have been on von der Leyen's agenda.
Von der Leyen also paid a visit this week to Mohammed Shtayyeh from the Palestinian Authority, which detains and tortures Palestinians to keep Israel and the EU happy.
Shtayyeh patted von der Leyen on the back over Europe's nominal commitment to the search for peace and justice.
Dr. Mohammad Shtayyeh د. محمد اشتية
Today I welcomed Ursula von der Leyen, President of the European Commission. We thank the EU for resuming its financial support to Palestine. Europe is the main donor to Palestine and our partner towards achieving peace and justice.
For the past year, the EU has withheld funding for Palestinian hospitals. There is nothing just about depriving cancer patients of treatment.
Although von der Leyen has trumpeted a decision allowing the funding to resume, she has never denounced – at least not publicly – the man who blocked the funding, Hungary's EU commissioner Olivér Várhelyi. Her silence is inexcusable considering that she is Várhelyi's boss and could exert considerable pressure on him if she so desired.
Cowardly
Palestinian rights barely got a mention from von der Leyen this week. The only notable exception was when she stated that the EU "strongly condemns" the killing of the journalist Shireen Abu Akleh.
As condemnations go, it was a cowardly one. Von der Leyen did not acknowledge that there was a clear culprit in this killing – the Israeli military.
Nor did von der Leyen say anything this week about the violence of the Israeli police during Abu Akleh's funeral.
Von der Leyen has described aggression ordered by Vladimir Putin as "barbaric" and called Russia's occupation of parts of Ukraine "terrifying."
But she would never dare to use such strong words when alluding to Israel.
European Commission President Ursula von der Leyen calls Russia's military action against Ukraine a "barbaric attack" that targets "the stability in Europe and the whole of the international peace order"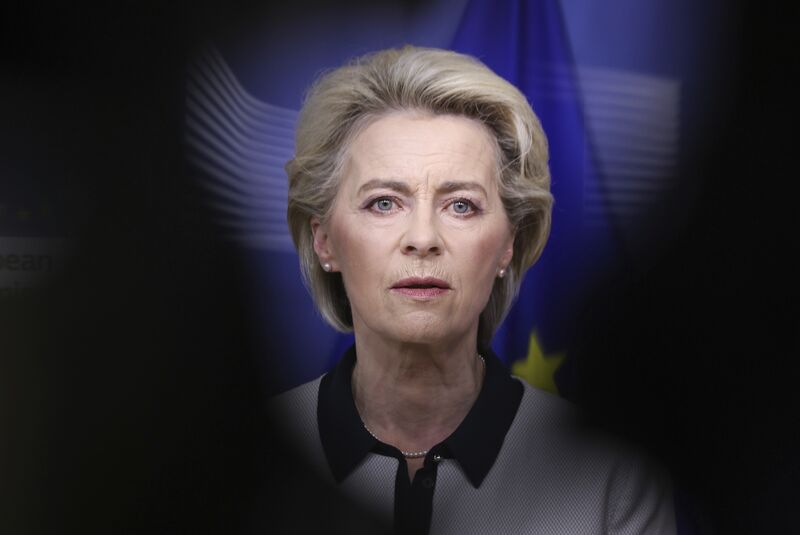 European Commission President Ursula von der Leyen, speaks during a press statement on Ukraine, at EU headquarters in Brussels, Thursday, Feb 24, 2022. Russian troops launched a wide-ranging attack on Ukraine on Thursday, as President Vladimir Putin cast aside international condemnation and sanctions and warned other countries that any attempt to interfere would lead to "consequences you have never seen." (Kenzo Tribouillard, Pool Photo via AP)
In her Ben-Gurion University speech, von der Leyen praised Israel as a "global trailblazer for science and innovation."
Eager to embrace the "global trailblazer," the EU gives research grants to Israel's weapons industry and even a firm established by a former head of Mossad, the spying and assassination agency.
Von der Leyen did not draw attention to the murky aspects of the EU-Israel partnership this week. Rather, she advocated that the partnership should be put to use in the fight against climate change.
Once again, von der Leyen omitted some important details.
The Israel Electric Corporation is a major participant in the energy projects that von der Leyen endorsed. The same company is actively involved in Israel's theft and colonization of the West Bank.
If the projects are completed, energy generated in settlements which violate international law will be imported into Europe.
There is something obscene about suggesting that Israel is keen to solve the world's environmental problems. That kind of obscenity is exactly what we should expect from someone who merits a master's in deception.