NOVANEWS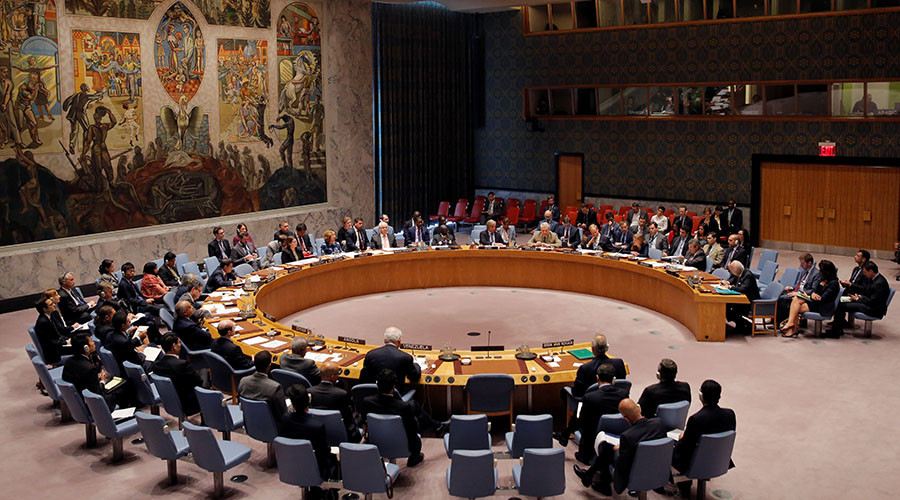 Russia's permanent representative to the United Nations, Vitaly Churkin, has died suddenly in New York, the Russian Foreign Ministry said. The cause of Churkin's death has not yet been released.
20 February 2017

18:50 GMT

18:35 GMT

US Ambassador to Russia John Tefft said, "Our thoughts and prayers are with family and friends of Vitaly Ivanovich Churkin," according to a quote from the US Embassy on Twitter.

Теффт: Наши мысли и молитвы с родными и близкими Виталия Ивановича Чуркина @MID_RF@nikkihaley

18:20 GMT

Russia's Permanent Delegation to the UN has issued a statement, saying that Vitaly Churkin "died at the workplace."

"We, who worked with this outstanding, energetic, and decent man for many years, are deeply shocked with what happened. It's hard to believe that Vitaly Ivanovich is not with us anymore," the statement said.

18:14 GMT

Speaking to RT, Veronika Krashennikova, a member of Russia's Civic Chamber, noted how demanding the job performed by Vitaly Churkin at the UN was.

"The death of Vitaly Churkin is a gigantic loss for Russian diplomacy. He was at the political and media front line at the UN in New York. Over the last three years, with Ukraine, Syria and growing international tensions, Vitaly Ivanovich had to work to the max."

18:13 GMT

Devastated by passing of Russian UN Amb Vitaly Churkin.Diplomatic maestro &deeply caring man who did all he cld to bridge US-RUS differences

18:10 GMT

Russian President Vladimir Putin has offered his condolences to the family and friends of Vitaly Churkin and to the staff of Russia's Foreign Ministry, Putin's spokesman Dmitry Peskov said.

"The president learned the news with great sadness. He appreciated Churkin's professional qualities and diplomatic talent," Peskov said.

18:08 GMT

British Ambassador to the UN Matthew Rycroft wrote on Twitter he was "absolutely devastated" to hear of Churkin's passing.

Absolutely devastated to hear that my friend & colleague Vitaly Churkin has died. A diplomatic giant & wonderful character. RIP

18:04 GMT

"He was a strong-willed, resolute, and dutiful person, who was admired by his colleagues and envied by his enemies," Russian Deputy Foreign Minister Sergey Ryabkov told RT.

Russia's UN Ambassador spared no effort and devoted his life and strength "to the fight for a brighter future for this world," Ryabkov said, adding that Churkin's death is "a great loss not only for diplomacy, but for the country in general."
20 February 2017

18:00 GMT

17:57 GMT

The United Nations has extended its condolences to Russia and to the family and friends of Vitaly Churkin, a representative for UN Secretary-General Antonio Guterres said, TASS reported.

"We are shocked by the news of the death of Ambassador Churkin. He has been here for a long time and we, here at the UN, are extending our condolences to his family, friends and Russia's government," the spokesman was cited as saying.

17:53 GMT

Interviewed Churkin just 2 weeks ago. He looked in good health and was very energetic during the interview. Shockedhttps://youtu.be/1J514rtxado 

17:51 GMT

Russia's ambassador to the UK, Aleksandr Yakovenko, said he is "shocked and saddened" by the death of Vitaly Churkin.

"A top diplomat and a good friend," Yakovenko wrote on Twitter.

Shocked and saddened to learn that Ambassador Vitaly Churkin passed away. A top diplomat and a good friend.

17:45 GMT

"He was an outstanding person. He was brilliant, bright, a great diplomat of our age," Russian Foreign Ministry spokeswoman Maria Zakharova told RT, adding that the news of Churkin's death was "completely shocking."

17:39 GMT

An announcement was also made during the session of the 71st Ad Hoc Working Group on UNGA Revitalization at the UN headquarters.

17:35 GMT

The news was announced by the Russian Foreign Ministry in a statement:

"It is with profound regret that we announce that Russia's permanent representative to the United Nations Vitaly Churkin has died suddenly in New York on February 20, a day before his 65th birthday," the statement said.