"Right-wing nationalism and illiberalism are very alive in the heart of Europe."
Democracy defenders on Monday warned of ominous consequences as right-wing Hungarian President Viktor Orbán was overwhelmingly elected to his fourth term in a contest progressive observers said was unfairly stacked against the opposition.
"Hungary seems to have reached a point of no return."
Péter Márki-Zay, leader of the opposition United for Hungary alliance and mayor of the southeastern town of Hódmezővásárhely, said that "we never thought this would be the result. We knew in advance that it would be an extremely unequal fight. We do not dispute that Fidesz won this election. That this election was democratic and free is, of course, something we continue to dispute."
According to the National Election Office, with nearly 99% of ballots counted Orbán's Fidesz-led coalition won 53.3% of the vote, while United for Hungary—a big-tent alliance whose members ranged from the right-wing Jobbik party to Hungary's Green Party—had 34.9%. The far-right Our Homeland Movement nearly doubled its 2019 showing to 6.2%, passing the 5% threshold for parliamentary representation.
Yascha Mounk@Yascha_Mounk It now looks virtually certain that Viktor Orban has been reelected as Prime Minister of Hungary in elections that were dubiously free and barely fair. It's a dark day for democracy, for Hungary, and for the EU.9:26 PM · Apr 3, 2022
Preliminary results point to a two-thirds parliamentary supermajority for Fidesz, whose members will occupy 135 seats to United for Hungary's 56.
Edit Zgut, a political scientist at the Polish Academy of Sciences in Warsaw, told the Associated Press that "Hungary seems to have reached a point of no return," and that Orbán will now be empowered to move in an even more autocratic direction.
"The key lesson is that the playing field is tilted so much that it became almost impossible to replace Fidesz in elections," she added.
Progressive International@ProgIntl Democracy in the EU is under threat — from the inside. This Sunday, the @ProgIntl mobilizes to Hungary as Viktor Orbán aims to consolidate executive power and crack down on the LGBTQ community. Sign up now to stay up to date with the delegation.
According to Progressive International:
Hungary held its last free and fair election 12 years ago, when Viktor Orbán's Fidesz party, together with its coalition partner KDNP, won a "supermajority" in the Hungarian parliament that enabled it to change the country's constitution.

Since then—and often under the protection of right-wing political forces in the European Union—Fidesz has slowly eroded the rule of law, democratic institutions, and the integrity of the electoral process…

Since 2010, the Fidesz-dominated parliament has approved over 700 changes to the electoral system—often without public consultation, despite resistance from opposition parties and notably during the Covid-19 state of emergency. Crucially, this included the gradual gerrymandering of electoral constituencies to favor Fidesz candidates.
Government control over the media has played a crucial role in perpetuating Fidesz's power. A report published last month by the International Press Institute (IPI) detailed how the government continues to "systematically erode media pluralism, muzzle what is left of the independent press, and manipulate the market to further entrench a dominant pro-government narrative.
"To achieve this unprecedented level of political control over the country's media ecosystem, Fidesz has pursued the most advanced model of media capture ever developed within the European Union," said IPI. "This process has involved the coordinated exploitation of legal, regulatory, and economic power to gain control over public media, concentrate private media in the hands of allies, and distort the market to the detriment of independent journalism."
This has led to fawning election coverage and disproportionate airtime for Orbán and marginalization of Márki-Zay, as well as what political commentator Péter Krekó called "an orgy of disinformation over Ukraine" to the point where many Hungarians believe the invaded nation started the war.
European leaders bristle at Orbán's warm personal relationship with Russian President Vladimir Putin, although the Hungarian leader did condemn Russia's invasion of Ukraine and vote along with the rest of the 27-nation European Union on economic sanctions.
Ian Dunt@IanDunt It's never been more important for the EU to tackle this cancer growing within its project. It can't be put on the backburner in order to fight Putin. Orban and Putin are different aspects of the same threat.

Samuel Ramani@SamRamani2Viktor Orban declared victory over six foes in his speech: 1) The "left" at home 2) The "international left" abroad 3) The Brussels bureaucrats 4) George Soros 5) The international media 6) Volodymyr Zelensky
Orbán relished his landslide victory, triumphantly declaring that "the whole world has seen tonight in Budapest that Christian democratic politics, conservative civic politics, and patriotic politics have won. We are telling Europe that this is not the past, this is the future."
"We won a victory so big that you can see it from the moon, and you can certainly see it from Brussels," he gloated, referring to the E.U. capital.
In addition to the Russia issue, the E.U. and Hungary have been at odds over the latter's human rights violations—especially against LGBTQ+ people, women, Roma, and migrants—and the erosion of democracy in the Central European nation of 9.75 million people.
Progressives hailed the failure of an anti-LGBTQ+ referendum modeled party on Russia's so-called "gay propaganda" law as a bright spot in Hungary's elections.
The Left in the European Parliament@Left_EU Orbán's election win a loss for human rights. However, his failure in the referendum shows the struggle is not over: "There is no majority support in Hungary for discrimination, inequality and ostracization of LGBTQI people." @MalinBjork_EUhttps://lgbti-ep.eu/2022/04/04/press-release-the-message-from-hungary-was-clear-this-lgbtiq-referendum-is-invalid/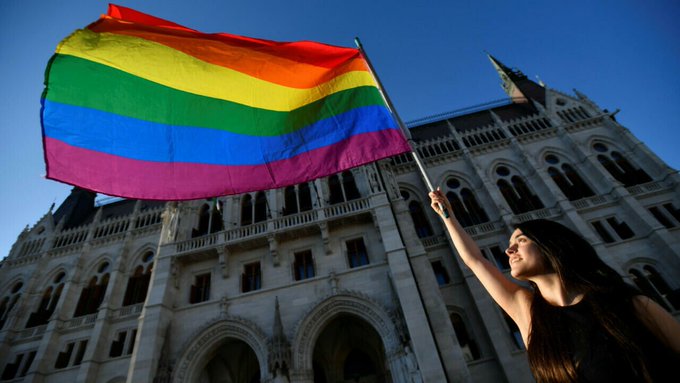 The Hungarian leader's anti-immigrant, anti-LGBTQ+, and other regressive policies and actions have won widespread admiration and support from right-wing leaders around the world, as well as from uber-conservative U.S. media personalities like Fox News' Tucker Carlson, who has repeatedly broadcast from Hungary.
In January, former U.S. President Donald Trump endorsed Orbán's reelection. The following month, Orbán hosted Brazilian President Jair Bolsonaro, who called Hungary Brazil's "big little brother."
Orban's victory came on the same day that Serbian President Aleksandar Vučić—another right-wing populist with close ties to Putin—was decisively reelected, avoiding a second-round runoff contest in the Balkan nation caught between its historically close relationship with Russia and its E.U. aspirations.
International observers also said that Serbia's elections were unfair, with the Organization for Security and Cooperation in Europe (OSCE) alleging the contest was held on "an uneven playing field.
Aleksandra Tomanic@AleksTomanic Just an ordinary election day in Serbia 2022, amid its crisis of democracy. Already looking forward to the international congratulations tonight on a "regular process". Pavle Grbovic, the leader of an opposition party, has been attacked in front of a polling station in Belgrade
TV N1 Beograd@N1infoBGSnimak napada na @PavleGrbovic ispred biračkog mesta Galenika.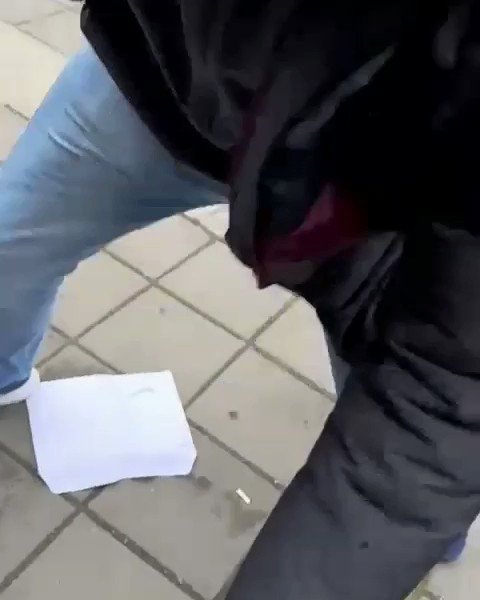 Kyriakos Hadjiyianni, special coordinator and leader of the OSCE short-term elections observers, said that "this was a competitive campaign and, importantly, included opposition candidates this time, but the pervasive influence of the ruling parties gave them undue advantage."
The conservative victories in Hungary and Serbia are likely to resonate with right-wing candidates in other European nations including France, where according to recent polling incumbent centrist President Emmanuel Macron holds a single-digit lead over far-right challenger Marine Le Pen in next week's first-round election.
Hungarian progressives vowed to keep fighting against the erosion of democracy, pointing to signs of hope like the election of left-wing activist András Jámbor to parliament.
Szikra Mozgalom@SzikraMozgalom·Apr 3, 2022Although our movement is young, we are already past many battles. We have never lost an election and we have won again. A coherent vision, a truly left-wing plan has proven to be the key to political success. That is what the opposition failed to do.

Szikra Mozgalom@SzikraMozgalomUgyan mozgalmunk fiatal, de már számos csatán túl vagyunk. Mi még sosem veszítettünk választást, és most is győzelmet arattunk. Bebizonyosodott, hogy egy koherens vízió, egy valóban baloldali ajánlat a politikai siker kulcsa. Ezt mulasztotta el az ellenzék.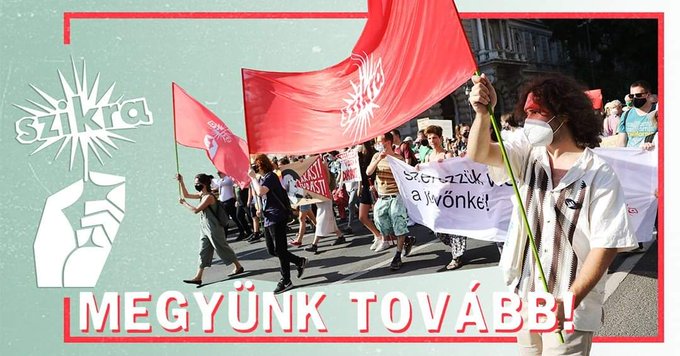 "Our goal will not change: We want to reestablish the left in Hungary, to create the possibility of economic and political democracy," Szikra Mozgalom, or Spark Movement—Jámbor's party—tweeted. "We will continue to fight for everything we believe in and what András Jámbor now represents in parliament!"