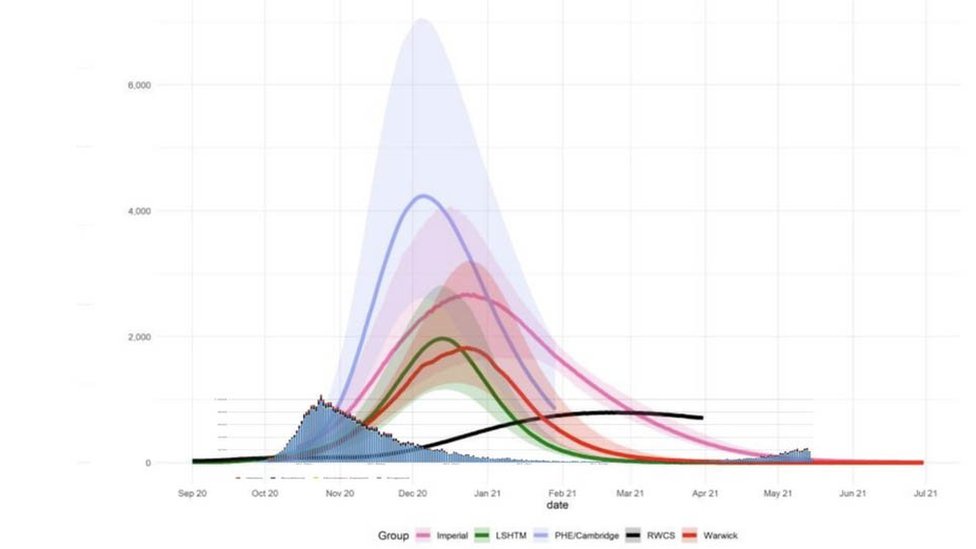 The PM will meet his cabinet later as he considers a month-long lockdown across England – in the hope that measures could be eased by Christmas.
A new "stay at home" order could be announced on Monday, with schools, colleges and universities exempt.
Documents seen by the BBC suggest the UK is on course for a much higher death toll than during the first wave unless further restrictions are introduced.
Deaths could reach more than 4,000 a day, one of the models suggests.
This figure is based on no policies being brought in to slow the spread of the disease, but most of the models peak at about 2,000 a day.
Downing Street said Boris Johnson will chair a cabinet meeting at 13:30 GMT to discuss the government's coronavirus response.
At the height of the pandemic during the spring, deaths in the UK reached more than 1,000 a day.
Infection rates are currently soaring across much of Europe, prompting new forms of lockdown in Belgium, France and Germany.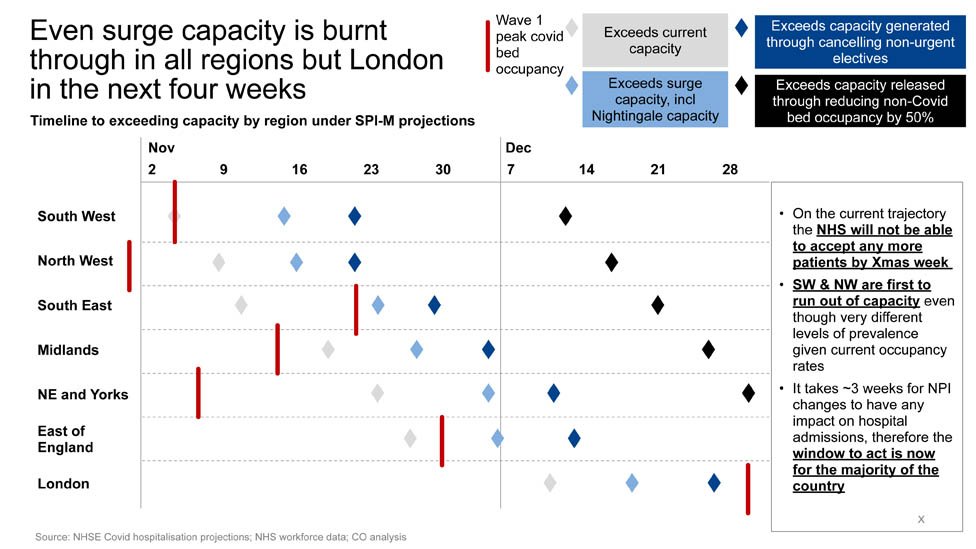 The papers, understood to be part of a presentation by the government's pandemic modelling group SPI-M shown to Boris Johnson, feature several different projections of the likely course of the disease.
All models predict that hospitalisations are likely to peak in mid-December, with deaths rising until at least late December before falling from early January.
And a separate document circulating in government – based on NHS England modelling from 28 October – warns that the NHS would be unable to accept any more patients by Christmas, even if the Nightingale hospitals are used and non-urgent procedures cancelled.
The document warns that south-west England and the Midlands will be the first to run out of capacity, potentially within a fortnight.


It feels like history is repeating itself.
In March, the government was trying to slow rather than stop the virus. Then modelling said huge numbers of people would die and we ended up in lockdown.
A key difference this time is the government's science advisers called for a circuit-breaker six weeks ago.
The price of delay is cases are higher and we have missed the boat for doing it at the same time as school holidays for extra impact. It means we may have to lockdown for longer.
The spring lockdown did bring cases down. A lockdown now would be expected to do the same.
There is an ambition to keep schools open, but there are growing doubts about secondaries where Covid cases are "increasing steeply".
Deaths will continue to rise throughout a suggested November lockdown, but the hope is driving levels of the virus low enough would allow the struggling NHS Test and Trace programme to become effective again.
The driving motivation here is saving lives and not overwhelming the NHS. There is no guarantee it will deliver a normal Christmas, too.

These latest papers come after official documents from the Scientific Advisory Group for Emergencies (Sage) revealed that Covid is spreading much faster in England than the predicted "worst case" scenario.
This scenario had estimated 85,000 deaths from Covid during winter.
But in the Sage documents – dated 14 October and published on Friday – scientists estimated that, by mid-October, there were between 43,000 and 74,000 people being infected with coronavirus every day in England.
Their report said: "This is significantly above the profile of the reasonable worst-case scenario, where the number of daily infections in England remained between 12,000-13,000 throughout October."
Scientists advising the government have been arguing for a short, planned lockdown – called a "circuit-breaker" – since 21 September, when there were around 5,000 confirmed cases a day.
Earlier this month, the World Health Organization (WHO) said lockdowns were "not sustainable" and should be "limited in duration" due to their "severe economic, social and broader health impacts".
While the WHO acknowledged that during the pandemic "there have been times when restrictions were necessary and there may be other times in the future", it said lockdowns are "best used to prepare for longer-term public health measures".
'Too late'
Labour's shadow business minister Lucy Powell told BBC Breakfast suggestions of a national lockdown had come "too late".
She accused the government of "dithering" as she argued a circuit-breaker over half-term would have "had most impact" and "saved more of the economy".
But UK Hospitality chief executive Kate Nicholls said a national lockdown would be "absolutely devastating" for her industry.
She told the programme the sector would need "significant additional help", adding: "There is no spare capacity in the tank to be able to fund a lockdown – even for three to four weeks."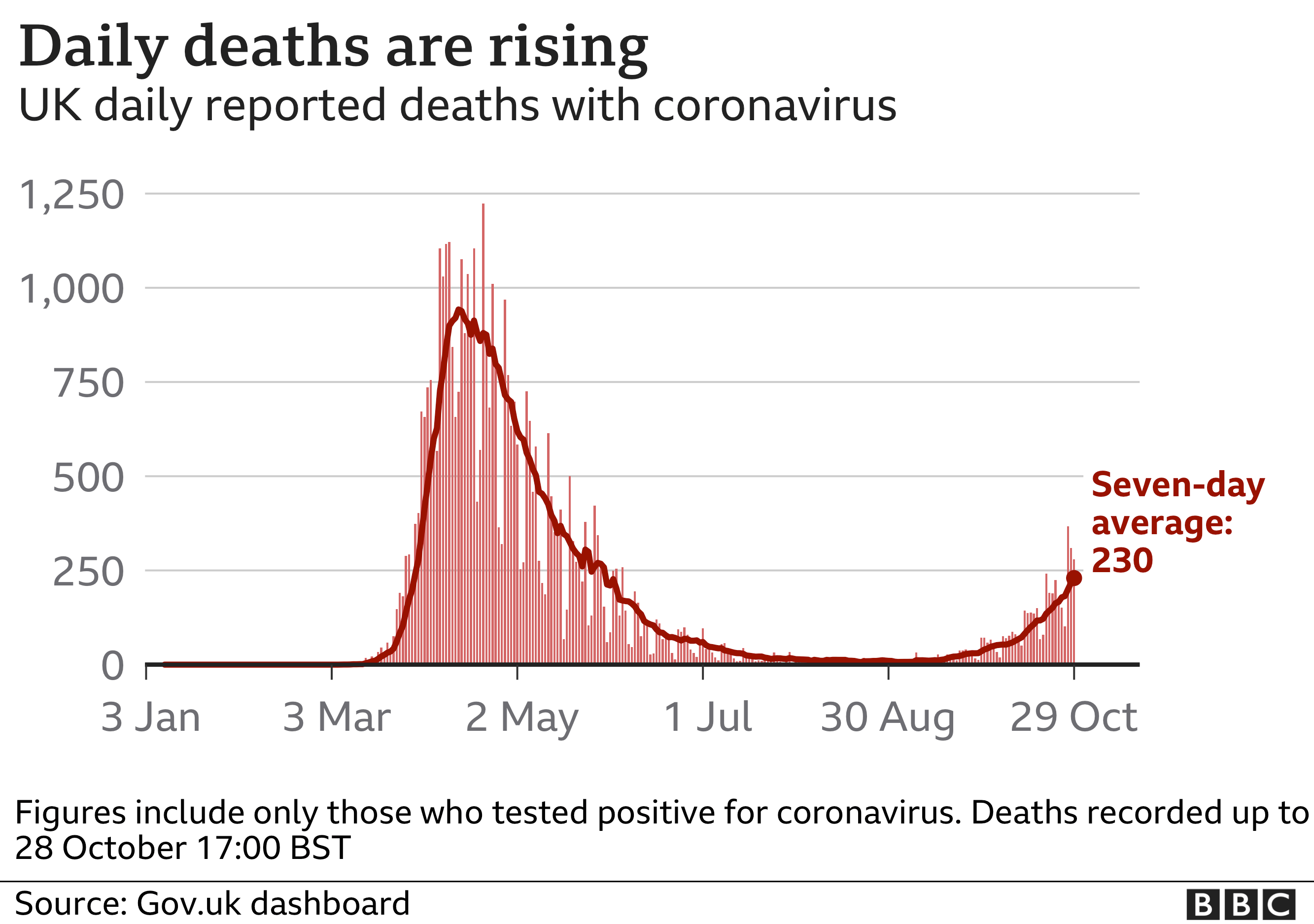 Her concerns were echoed by Federation of Small Businesses chair Mike Cherry, who said another lockdown would be "incredibly frustrating" as small businesses and businesses across the UK had "spend thousands" in making sure their premises are safe for employees and customers.
And Dr Adam Marshall, director general of the British Chambers of Commerce, has called on the government to urgently set out "a clear plan" if ministers are planning another national lockdown – "rather than allow business and market confidence to be further eroded by speculation".


A government source said that the country is at a "crunch point".
No final decisions have yet been taken, and not all cabinet members have yet been consulted on the next steps.
But it seems that Mr Johnson is likely to take the national action that he swore he would do everything to avoid.

Sage scientist Prof John Edmunds told BBC Radio 4's Today programme the only way to have a "relatively safe" Christmas is to take "stringent" action now to bring the incidence of the virus "right down".
Asked if restrictions would have to be more severe than the circuit-breaker previously proposed by scientists, Prof Edmunds said "putting off" decisions only "makes them more difficult".
"If we are going to put the brakes on the epidemic now, then we're going to have to put the brakes on harder and longer to bring the cases down to what might be an acceptable level," he said.
Fellow Sage member Prof Calum Semple told BBC Breakfast that a national lockdown, with full compliance, "would see a dramatic fall in hospital admissions" in four weeks' time.
Prof Semple suggested there should be a review at four weeks and there could be a "bit of easing around the festive activities" but that a lockdown would give officials "time to get test, trace and isolate processes really up to scratch".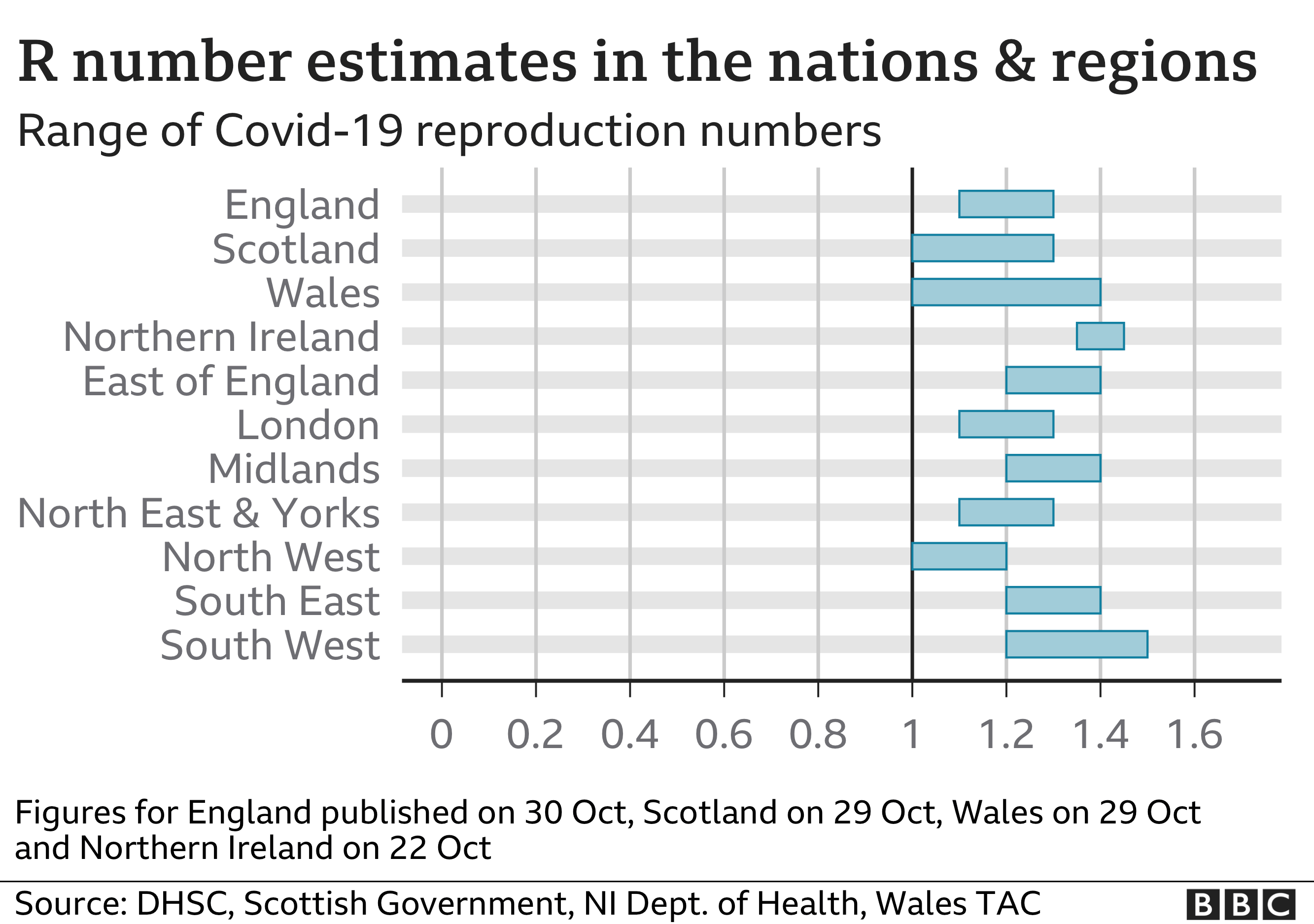 The current estimate of the R number in the UK – the number of people each infected person passes the virus on to on average – is between 1.1 and 1.3, indicating that cases are still growing.
On Friday, 274 deaths were announced, meaning that since the start of the pandemic 46,229 people have died within 28 days of a positive test.
Every area of England is now in one of three coronavirus alert categories – medium (tier one), high (tier two) or very high (tier three). Scotland has five levels of restrictions.

Scotland's new tiered system of restrictions will come into force at 06:00 on Monday, and Wales remains under a 17-day "firebreak" lockdown until 9 November.
Pubs and restaurants in Northern Ireland were closed for four weeks starting on 16 October, with the exception of takeaways and deliveries. Schools were closed for two weeks.