Authorities in Western nations are bringing the situation to "the point of no return," Ramzan Kadyrov has warned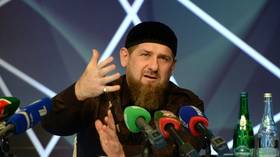 Chechnya's regional President Ramzan Kadyrov delivers a speech during his annual news conference, in Grozny, Russia's Chechen Republic. © Sputnik
The head of Russia's Chechen Republic Ramzan Kadyrov has blasted Muslim leaders over their failure to address numerous Quran-burning incidents in the West, vowing to do his best to "deal with" the culprits after the end of the Ukraine conflict.
In a statement on Telegram, Kadyrov said that the continued desecration of Islam's holy book in Europe poses an "unprecedented challenge" to the Muslim world, and that the stunts "predictably bring the situation to the point of no return."
"Where are the leaders of Muslim states at this time? Why are they allowing our Holy Scriptures to be openly violated and not taking any significant steps to protect Muslims and the Islamic religion? Do they really fear backlash and American and European sanctions more than the wrath of Allah Almighty?" he asked.
At present, Russia stands alone against Western "aggressive atheist colonial policy" while fighting "for our sacred and sacrosanct values" in Ukraine, the Chechen leader argued.
EU state raises Islamist terror threat level
"I'm 100% certain of victory. When we finish with Ukraine, we will go to those countries that have desecrated the Quran,"  Kadyrov noted, adding that there were many Muslims in Russia who would not ignore the incidents.
He recalled that some 10,000 Chechen fighters are now in action in Ukraine, with another 15,000 ready to step into the fray. "There are another thirty, forty, fifty thousand volunteers. We have weapons, heavy equipment… We will show [Ukrainian President Vladimir] Zelensky what happens when he sells his nation. And we'll show the ramifications to those who support all this,"  he stated.
Kadyrov went on to say that if "Satan's servants" are not stopped, "tomorrow they will be in our mosques." "They will indoctrinate our children that prayer is not fashionable and turn our peoples into a faceless mass of consumers for whom the dollar will become their god,"  he said.
In recent weeks, Denmark and Sweden have seen a string of public protests in which anti-Muslim activists desecrated the Quran, prompting outrage among Islamic believers across the globe. While the two Nordic countries deplored the incidents, they said that they could not prevent them, citing freedom of expression. However, faced with pushback and heightened security risks, both Copenhagen and Stockholm have signaled a readiness to address the issue.
Russian President Vladimir Putin has condemned the Quran burnings as a "crime" and an attempt to incite sectarian division.