BAE Systems is expanding further into the US with the acquisition of the aerospace division of Ball Corporation, FT reports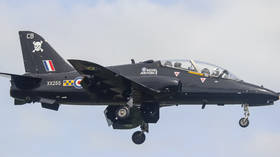 BAE Systems Hawk T1A aircraft © Getty Images / Bradley Caslin
British defense contractor BAE Systems has agreed to acquire the aerospace division of US Ball Corporation in a $5.55 billion cash deal, the Financial Times reported on Thursday.
According to the outlet, citing BAE, the acquisition would add more than $2 billion in annual revenues for the UK-based defense company. The deal is expected to be closed in the first half of 2024.
Ball, which makes mission-critical space systems and defense technologies, has "strong growth potential in areas aligned with the US intelligence community and department of defense's highest priorities," BAE was quoted as saying.
The UK company's chief executive, Charles Woodburn, noted the acquisition had a compelling "strategic and financial rationale."
The deal reportedly comes less than a month after BAE raised its annual profit projection due to a record number of orders amid the conflict in Ukraine. The UK weapons manufacturer builds Eurofighter Typhoon jets, nuclear submarines, and combat vehicles and produces ammunition for the British military. BAE revealed a record order book this month, saying it now expects to generate more than £1.8 billion ($2.2 billion) in free cash flow, nearly $765 million higher than previously forecast.
READ MORE: Profits of Western arms makers top $200 billion – report
A recent ranking by Defense News magazine showed that the revenues of the top Western defense contractors have been soaring, topping $200 billion in 2022. According to the report, US, EU, and UK arms makers have been major beneficiaries of weapons sales to Ukraine. Meanwhile, a report by the Pentagon inspector general has revealed that some of the military equipment supplied to Ukraine by the US and its allies has fallen into the hands of criminal groups.