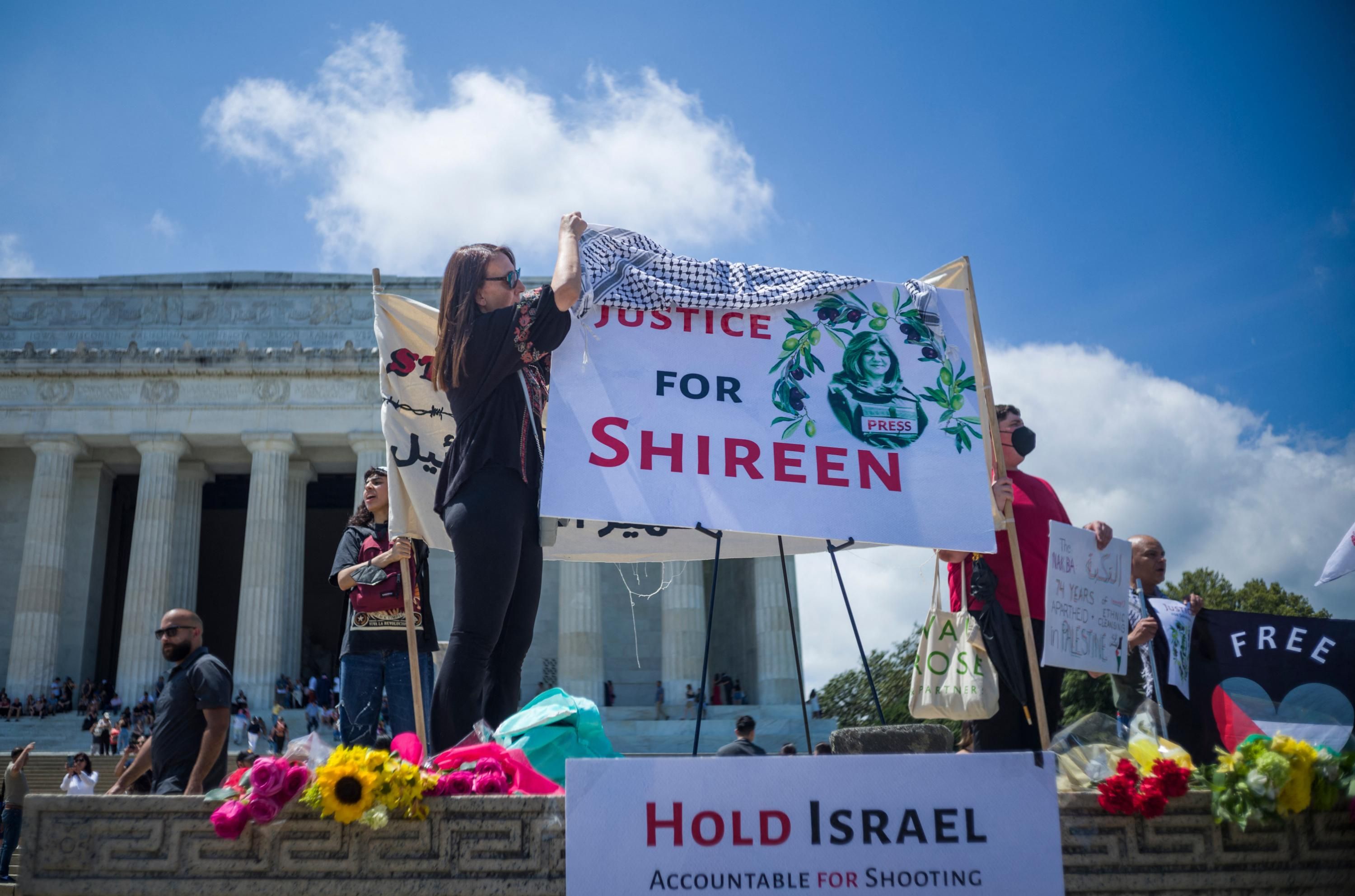 A woman drapes a keffiyeh on a banner calling for justice for slain Palestinian-American journalist Shireen Abu Akleh during a rally to mark Nakba at the Lincoln Memorial in Washington, D.C. on May 15, 2022. (Photo: Mandel Ngan/AFP via Getty Images).
"Failing to even mention these slain reporters during his Middle Eastern trip would send exactly the wrong message to both foreign governments and vulnerable journalists around the world."
Ahead of U.S. President Joe Biden's trip to the Middle East this week, advocates pressured him to seize the opportunity to "demand justice" for slain journalists Jamal Khashoggi and Shireen Abu Akleh.
"Your administration has thoroughly failed to meet the bare minimum expectation held by a grieving family."
"In light of his pledge to place human rights at the forefront of his foreign policy, the very least President Biden can do during his trip to Jerusalem is meet with… Shireen Abu Akleh's family and demand justice for her murder," said Edward Ahmed Mitchell, deputy director of the Council on American-Islamic Relations (CAIR), the largest U.S. Muslim civil rights and advocacy group.
In a letter addressed to Biden and also shared with U.S. Secretary of State Antony Blinken, Abu Akleh's family last week requested to meet with the president—who is set to visit Israel, the Israeli-occupied West Bank, and Saudi Arabia from Wednesday to Friday.
The family pointed out that investigations by the United Nations Human Rights Office, the Jerusalem-based group B'Tselem, and various journalists have found that Israeli forces killed Abu Akleh, a Palestinian-American who was reporting in the West Bank for Al Jazeera.
As the letter to Biden states:
All available evidence suggests that Shireen, a U.S. citizen, was the subject of an extrajudicial killing, yet your administration has thoroughly failed to meet the bare minimum expectation held by a grieving family—to ensure a prompt, thorough, credible, impartial, independent, effective and transparent investigation that leads to true justice and accountability for Shireen's killing.

Instead, the United States has been skulking toward the erasure of any wrongdoing by Israeli forces. From the failure to immediately ensure an independent and impartial investigation, to the rushed hand-off of the bullet that killed Shireen without consultation let alone allowing us to have a representative present, which culminated in the July 4 statement adopting the conclusions and talking points of the Israeli government, your administration's engagement has served to whitewash Shireen's killing and perpetuate impunity.
The family called for the retraction of the July 4 statement and for the Justice Department "and any other relevant U.S. offices or agencies to take action on Shireen's extrajudicial killing."
The journalist's niece, Lina Abu Akleh—who said that she spoke with her aunt almost daily before she was killed on May 11—told The Guardian on Tuesday that the White House has not responded.
"The U.S. is clearly trying to bury the case. They're trying to cover it up," she said. "If Shireen was killed in Ukraine, I'm 100% sure the reaction would have been completely different. There would have been action taken from day one. There would have been accountability. There would have been a transparent and independent investigation. And there would have been justice."
Reporters Without Borders secretary-general Christophe Deloire echoed the family's demand for action, saying Tuesday that "the United States must not abandon Shireen Abu Akleh, a citizen of their country."
"It is incomprehensible that, at this stage, the U.S. authorities still haven't begun a criminal investigation and still haven't done their duty to defend and protect a U.S. citizen, as is usually the case with Americans who are the victims of crimes of violence abroad," he said. "We call on the competent authorities, such as the FBI, to open an investigation as soon as possible."
President Biden will betray not one but two murdered journalists in this trip: he'll be honoring MBS in spite of his responsibility for killing Jamal Khashoggi, and cozy up to Lapid with likely not a word about Israeli soldiers killing Shireen Abu Akleh
Critics of Biden's trip have also highlighted the conclusion by the U.S. intelligence community and many others that Saudi Crown Prince Mohammed bin Salman—with whom Biden is set to meet this week—approved the October 2018 assassination of Khashoggi, a Saudi national and U.S. resident who wrote columns for The Washington Post.
"The president should also demand justice for Jamal Khashoggi during his visit to Saudi Arabia," said CAIR's Mitchell. "Failing to even mention these slain reporters during his Middle Eastern trip would send exactly the wrong message to both foreign governments and vulnerable journalists around the world."
Sam Carliner, a New Jersey-based journalist and weekend social media manager for the anti-war group CodePink, wrote in a Tuesday opinion piece for Common Dreams that "this trip demonstrates that while officials of the Biden administration often pay lip service in support of press freedom, they will let governments off the hook for high profile murders of journalists if those governments help the United States maintain regional influence."
"It may be hard for some to admit that the U.S. government disregards press freedom in order to maintain international power, but for those of us who have been following the trial of Julian Assange, it comes as no surprise," Carliner continued, detailing the United Kingdom's potentially imminent extradition of the WikiLeaks founder.
"Since the Biden administration cannot be counted on to defend the rights of journalists as a principle," he added, "it is essential for the public to become louder and more organized in support of press freedom."
If President Biden wants his trip to the Middle East to serve as more than an unpopular photo op, then we've got an idea: @POTUS, use this as a chance to press for an end to the Saudi-led war in Yemen!
Along with slamming Biden for making clear—as Carliner put it—that "he takes no issue with emboldening attacks on press freedom," critics of the upcoming trip have directed attention to U.S. complicity in the Saudi-led assault on Yemen.
"We are deeply concerned about Biden's planned trip to Saudi Arabia, despite his promises to make the kingdom a 'pariah' given their horrible human rights record, which includes the killing of journalists and their deadly war in Yemen," said Demand Progress foreign policy campaigner Cavan Kharrazian in a statement Tuesday.
Kharrazian cited polling that shows the trip is unpopular with Americans and argued that Biden's weekend op-ed in the Post about his trip "misses the mark in several ways," including his refusal to mention ongoing U.S. support for the war on Yemen.
"While the temporary truce in Yemen should be applauded, it is no substitute for a lasting peace agreement and Saudi bombs could continue to drop—with U.S. support—if and when it expires in August," Kharrazian added, urging Congress to immediately pass a recently introduced War Powers Resolution.
As Common Dreams noted Monday, human rights and peace campaigners were outraged by reporting that the Biden administration is considering lifting its ban on the sale of "offensive" U.S. weapons to Saudi Arabia.