NOVANEWS
Analysts say that Gaza has bled too much to accept an easy truce with Israel, but fear this will usher in a "horrendous tragedy" that will further compound Palestinian suffering
By: Sam Bahour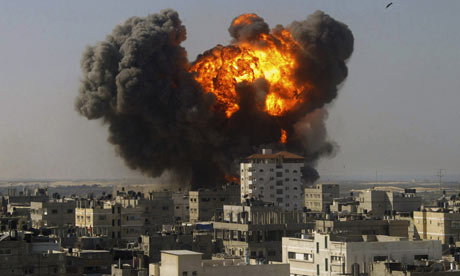 "The sheer use of the word 'ceasefire' is insulting. It depicts an artificial symmetry that the Palestinians have fell for, even though reality on the ground is totally contrary.
For a fragile, non-representative, Palestinian unity delegation to be engaged in 'ceasefire' negotiations with their military occupier (it means little if done directly or through intermediaries) sets up Palestinians for an Oslo-like phase, where, no matter what is agreed, the Palestinian side will be signing away rights that have been stripped from them by Israel for decades.
These rights, first among them protection, should be secured by Third States under their obligations toward the Fourth Geneva Convention, without the need for 'resistance' or 'ceasefire' talks.
A 'ceasefire' simply reinforces the false impression that there is some hint of symmetry between Palestine and Israel. There is not! Furthermore, to be conducting these 'ceasefire' talks in the capital of a country that participates in the siege of the Gaza Strip should be an embarrassment to every member of the Palestinian negotiating team, first among them Hamas."