Halyna Hutchins' family is seeking compensation from the 'man with the gun'.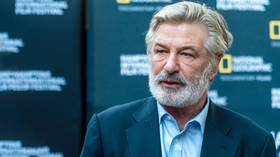 Alec Baldwin. © Mark Sagliocco/Getty Images for National Geographic
The family of late Ukrainian-American cinematographer Halyna Hutchins are suing Hollywood actor Alec Baldwin for her fatal shooting on the set of 'Rust'.
Hutchins' parents and sister announced their decision to sue Baldwin and others among the production crew via their lawyer, Gloria Allred, on Thursday. The cinematographers' relatives, who live near the Ukrainian capital of Kiev, are seeking "unspecified compensation."
They claim the actor did not reach out to them "to even say he was sorry," the lawyer said. "We haven't heard from Alec Baldwin, the man with the gun," the family said, as quoted by Allred.
Baldwin and 'Rust' producers settled a separate lawsuit with Halyna's American husband, Matthew Hutchins, and their son for an undisclosed sum in October 2022.
READ MORE: Alec Baldwin formally charged over fatal shooting
The tragic accident happened in October 2021, during the filming of the Western movie 'Rust' in New Mexico. Baldwin, portraying a gunslinger, was pointing a revolver at the camera helmed by Hutchins and director Joel Souza while rehearsing a dramatic shot. The gun in Baldwin's hand went off, killing Hutchins and wounding Souza.
The Occupational Safety and Health Administration stated in April 2022 that there were "several management failures" when it came to on-set safety and "if standard industry practices were followed" Hutchins would still be alive.
Baldwin has cooperated with the police and maintained that it was an accident. He said during an ABC interview in December that he "didn't pull the trigger." However, an FBI forensic examination, obtained by ABC, concluded that the revolver "functioned normally" and would not have fired without the trigger being pulled.
The filming of the Western is the subject of multiple lawsuits. In 2021, Mamie Mitchell, a script supervisor on the movie, claimed there were no directions for firing a gun in the writing. Mitchell, represented by the same lawyer as Hutchins' parents, is suing for compensation, as she is in "not in any condition to be a script supervisor" due to the traumatic experience. The chief armorer, Hannah Gutierrez-Reed, is also the target of several civil lawsuits and shares the criminal charge with Baldwin, although she has also filed her own lawsuit against the ammo supplier.
Despite all of the ongoing litigation, the filming of 'Rust' is reportedly set to resume in 2023.