'Kush' is lethal and affects almost every part of the user's body, a Sierra Leonean psychiatrist told RT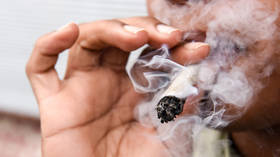 © Getty Images / Juanmonino
Sierra Leonean authorities have launched an operation titled 'Kush Must Go' to fight substance abuse among the country's youth. The move comes in response to protests in the capital Freetown earlier this week over rampant drug use and addiction issues.
Mental health practitioners and advocates have raised concerns about the negative impact of Kush, a cheap new drug, on the impoverished West African nation's young people.
Mabinty Kargbo, the mother of a Kush user, told RT that the hallucinogenic substance has "destroyed" Sierra Leoneans, including her family.
"I'm in distress because of Kush. My marital home is shattered because of Kush. I don't sleep as my son doesn't sleep at home. I'm in pain because of this Kush," Kargbo lamented.
Kush is said to be a mixture of chemicals and plants mimicking the cannabinoid (THC) found in marijuana.
READ MORE: Nigeria files new graft charges against suspended central bank chief
Speaking to RT, Abdul Jalloh, the head of the psychiatrist department at the Sierra Leone Psychiatric Hospital, emphasized the drug's lethality.
"It affects almost every part of your body, every system of your body. It can affect the way you think, your brain, the way you behave in society. It can also affect your kidneys," he said, adding that those who smoke Kush enter a trance-like state.