"Children will die as a result," said U.K.-based group Save the Children.
Global aid groups rebuked the Tory-led U.S. government of Prime Minister Boris Johnson on Tuesday for approving a plan to slash overseas aid spending by £4 billion ($5.5 billion) per year, with critics saying the cuts would result in disastrous consequences for the world's poorest people, including millions of children, in the middle of the coronavirus pandemic. Johnson's plan was met with outrage from some members of his own Conservative Party, but only 24 Tories ultimately voted against the proposal. A number of Tories who had originally said they disapproved of the plan to cut international spending from 0.7% to 0.5% of national income eventually joined most of the party in supporting the proposal after accepting a compromise from chancellor Rishi Sunak, stating that the cuts will be reversed once government debt is decreased and the country no longer has to borrow to fund daily spending—"a position the UK has not been in since 1970," Open Democracy reported.  "MPs should not be fooled," tweeted Global Justice Now ahead of the vote. "Unless they vote against the aid cuts today, this government will never reverse them." 
Under the plan, aid to Syria could be cut by two-thirds; to Libya by 63%; to Somalia and the Democratic Republic of Congo by 60%; and to South Sudan, where millions are facing famine, by more than half. Stark warnings were issued by international charities following the vote, including Kirsty O'Neill, executive director of policy, advocacy, and campaigns for Save the Children. "Children will die as a result," O'Neill said simply.  "We have seen already the immense damage caused in some of the world's poorest and most fragile countries—from 40% cuts in aid for Yemen to 85% cuts in British support for family planning," she added. "The vote today means that the cuts will not stop there. Faced by the biggest humanitarian crisis in a generation, the U.K. has stepped back when it needed to step up, and the consequences will be felt for years to come." In April, the United Nations Population Fund (UNFPA) said the funding being withheld this year by the U.K. would have prevented 250,000 maternal and infant deaths, 14.6 million unplanned pregnancies, and 4.3 million unsafe abortions. The UNFPA's condemnation was echoed Tuesday by Global Action for Peace and Security, which had called on MPs to reject the aid cuts and warned they would "have devastating and disproportionate impact on millions of women and girls." 

GAPS: [email protected]We are disappointed by the Gov'ts decision to cut #UKAid. This will have a devastating impact on women and girls living in conflict and post-conflict settings around the world during a global pandemic, but we are committed to continuing our work to advocate for women in crises.

GAPS: [email protected] MPs will vote today on the Government's £4bn cuts to overseas aid after a 3 hour debate. GAPS calls on MPs to vote against the aid cuts which, as clear in this briefing, will have devastating and disproportionate impact on millions of women and girls. https://insights.careinternational.org.uk/publications/uk-government-decisions-to-cut-uk-aid-are-disproportionately-falling-on-women-and-girls…5:12 PM · Jul 13, 2021
Some charities noted that pulling back billions of dollars in aid each year represented a reversal of Johnson's campaign pledge to lead a "Global Britain." Describing the vote result as "a disaster for the world's poorest people," Oxfam Great Britain chief executive Danny Sriskandarajah warned that amid the coronavirus pandemic, "aid is needed more than ever." "We are seeing a yawning gap between the rhetoric of 'Global Britain' and the reality of a government breaking its promises to the world's poorest and further undermining the U.K.'s credibility on the international stage," Sriskandarajah said. "These cuts won't balance the books; the government is putting politics above the lives of the world's most vulnerable communities." The 333 MPs who voted in favor of the cuts "should know that blood is on their hands," said Daniel Willis, campaigns and policy manager at Global Justice Now. "Today, claims of Global Britain ring hollow." Conservative leaders who spoke out against the cuts included former Prime Minister Sir John Major, who slammed Johnson's Ministry of Defense for funding a "national yacht" amid the withdrawal of aid—and former Secretary of State for Brexit David Davis.

Pippa [email protected]Ex-PM Sir John Major furious about foreign aid cuts – suggesting Govt's plan is "the stamp of Little England, not Great Britain". Some Tory MPs fear consequences in Southern seats where Lib Dems are already snapping at their heels.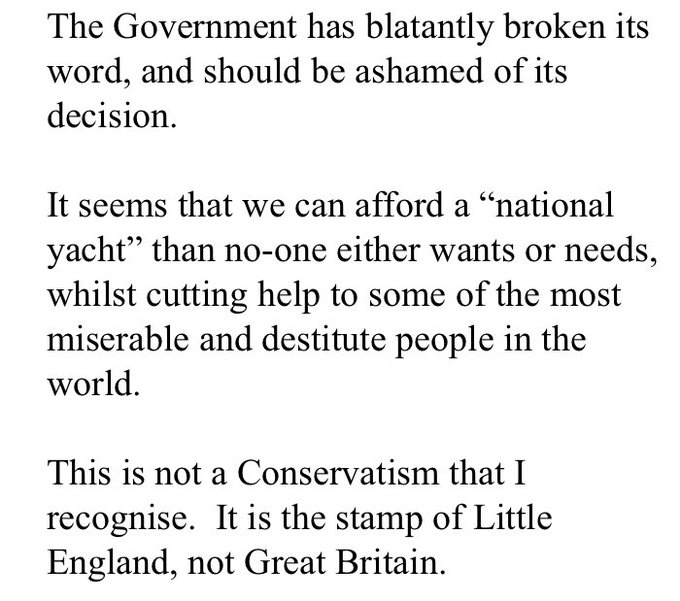 "Such a choice is morally reprehensible," David said of the plan. "Let's be clear about it: morally reprehensible." The results of Tuesday's vote, Global Justice Now said, represents "a deliberate attack on the idea of internationalism." "A truly shameful day," tweeted the organization.