NOVANEWS
These awful human rights abuses are the ugly side of the beautiful game, and today represents a big chance for Fifa.
Jim Murphy

, shadow international development secretary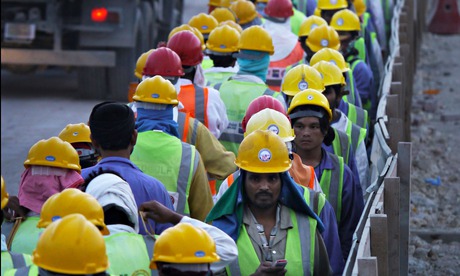 Workers at the 6am change of shift on a Qatar construction site. Photograph: Amos Chapple/Rex Features
If you want proof that sport and politics do mix, you only have to look at Sochi. The build-up to the Winter Olympics has seen 
protests against the new repressive laws on homosexuality in Russia

.
We all know that the power of sport can have a profound impact on politics and culture. Growing up in South Africa during the apartheid regime, I saw that first hand. The sporting boycott wasn't just a cultural body-blow to white South Africa, it was also a way of getting through to a cosseted minority that the rest of the world really did abhor its nation's policies of racial supremacy.
But in the modern world, global attention can sometimes be too fleeting to make a difference. That's why it's important that there has been an early focus on the 
rights of those workers building the infrastructure for Qatar's World Cup

.
Qatar has a population of about 2 million, but just one in eight are Qatari nationals. The majority are migrant workers from the Philippines, India, Pakistan and an incredible 400,000 are from Nepal. Most of them are working on the building sites that will help Qatar deliver the Middle East's first World Cup.
The treatment of these workers is the ugly secret of the beautiful game. Some are tricked into travelling thousands of miles under false pretences. Too many have their passports confiscated, work without pay, suffer squalid conditions, work excessive hours, and deal with staggering levels of debt. These abuses aren't one-offs – Amnesty International, Human Rights Watch and the Guardian have all made clear that these problems are pretty widespread.
In the face of this mountain of evidence, there can be no choice but to act. No one who cares about human rights, international development, or the romance of football policy can ignore these abuses. Momentum for change has to start now.
Today, at the European Parliament, Fifa representatives will attend a hearing on migrant workers in Qatar. This isn't just about the World Cup venues – a commitment that covers only stadiums isn't enough. Many hotels, roads and railway projects under construction in Qatar are geared towards helping the tiny state deliver for Fifa in 2022. So Fifa cannot pretend that the only things that matter are the pitches and the stands.
Fifa must receive a full report from Qatar, cataloguing the full scale of the problem – and a serious plan to make things right. Nothing less will do. The shortcomings in the current system leave too many vulnerable people exposed.
Qatar has come an incredibly long way in the past 20 years, and there have been real advances that should not be ignored. But conditions faced by some of these workers – and no one is suggesting it is every single one – fall within the International Labour Organisation's definition of forced labour.
The Department for International Development works with the ILO on the Work in Freedom programme, which aims to fight forced labour. The scheme currently covers 100,000 girls and women from South Asia. I'd like ministers to look at finding a way within existing DfID budgets to double that programme to cover just as many men on the construction sites of Qatar.
People don't have to die to bring us this or any other World Cup or sporting event; not a single worker died building the sites for the London 2012 Olympics. According to the International TUC, the 2022 World Cup risks 4,000 lives.
Since the late 19th century, when football escaped from being a sport played largely in our nation's public schools, it has become the one truly global sport. Ahead of this year's World Cup I think it would be right to pause and remember all of those who have died making the Brazil World Cup possible. Tragically, at the current rate of loss of life there will be a terrifyingly long list to commemorate on the eve of Qatar in 2022.
I love football. I didn't agree with Bill Shankly who is said to have remarked: "Some people believe football is a matter of life and death – I am very disappointed with that attitude. I can assure you it is much, much more important than that." But in Qatar today, the 2022 World Cup is becoming a matter of life and death for far too many.